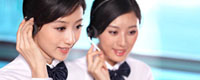 Name: Cassie.Huang
Tel: +86-755-27864416
Fax: +86-755-27864653
Mobile: 15989366182
E-mail: cassie@rxxdisplay.com
Skype: live:cassie_1191
QQ: 2850818618




Company News
>> LGD will showcase the new OLED panel at CES 2016 2nd,Mar,2017
LG Display announced that it will showcase several OLED prototypes and products at this week's International Consumer Electronics Show (CES 2016). The company will display 65-inch and 77-inch 4K HDR OLED TVs, a thin 55-inch concept like a paper, a 139-inch vertical tiled OLED display and an 18-inch curl OLED with a radius of curvature of 30 millimeters.
The vast majority of the above products have been demonstrated. 18-inch curl OLED was first announced in July 2014, LG Display Corporation in May 2015 announced the 55-inch 0.97 mm thick OLED. The 139-inch stitching shows the new product, although a few months ago the company demonstrated a three-inch 65-inch 4K OLED panel stitching made of 111-inch double-sided waveform display.
LG said in September that it would bring 55-inch curl OLED prototypes on the CES 2016, and later reported that LG would actually bring 77-inch curl OLED prototypes. LG Electronics will also release new OLED TV products, including the new high-end series of new products.