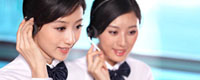 Name: Cassie.Huang
Tel: +86-755-27864416
Fax: +86-755-27864653
Mobile: 15989366182
E-mail: cassie@rxxdisplay.com
Skype: live:cassie_1191
QQ: 2850818618




Company News
>> Apple's fault! Huawei, millet, OPPO and so compete for Samsung AMOLED display 16th,Mar,2017
From the previous statistics, now the mobile phone manufacturers in the screen selection, more and more favor OLED, this situation is the most willing to see Samsung.
Originally on the tension of the screen, but also usher in a new competitor, it is Apple. Before the news shows that Apple has secretly signed an agreement with Samsung, which will provide the 2017 iPhone required AMOLED screen.
For Apple such a vendor, Samsung in its screen supply, the priority is undoubtedly the highest, and this also makes the domestic manufacturers into the state of competition for resources.
South Korea etnews given the news that the domestic mobile phone manufacturers Huawei, OPPO, vivo, millet and so on to compete for the Samsung AMOLED screen team, of course, in addition to the flagship machine, more and more end of the intelligent machine also began to use this screen.
The report also mentioned that although the Samsung Display to spend heavily, but most of the production capacity is reserved for the apple, the supply situation is difficult to see short-term improvement. Samsung Display A2 factory currently produces 5.5 generations of hard OLED, the monthly output of 1.5 million, while the A3 plant is responsible for manufacturing 6-generation bending OLED, the monthly output of 15,000.
The industry estimates that this year, Samsung additional investment, A2 plant production capacity will increase by 2 million, A3 plant will increase by 30,000, but even so still far from meeting the market, said OPPO originally scheduled to ship 60 million units this year, OLED smart phones, Soon after the raised to 90 million to 100 million units.