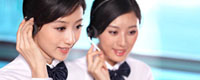 Name: Cassie.Huang
Tel: +86-755-27864416
Fax: +86-755-27864653
Mobile: 15989366182
E-mail: cassie@rxxdisplay.com
Skype: live:cassie_1191
QQ: 2850818618




Company News
>> Lu Chang TFT LCD panel shipments global share is expected to rise year by year 7th,Jan,2017
The mainland to actively develop the flat panel display industry, the main focus is to improve the self-sufficiency rate of the required panel and reduce the import deficit, the mainland industry to actively invest in TFT LCD panel production line, is expected either in capacity or global share of shipments will be expected Rising year by year.
DIGITIMES Research estimates that small and medium size (Small & Medium) applications TFT LCD production capacity in the global proportion of 15.5% in 2011, a substantial increase to 35% in 2017; large size applications, the proportion of global capacity will be 2011 5.3 %, A significant increase to 2017, 25.5%, above the forecast value of overseas manufacturers in mainland China set up the production line.
DIGITIMES Research estimates that mainland China will achieve 17% and 33% share of high-density, large-size, and small-to-medium size TFT LCD shipments in 2017, respectively, in terms of global market share for large- and small-sized TFT LCD applications. Respectively, to 130 million, 970 million, compared with 2013, the increase of 51%, 54%.
It is expected that BOE will maintain the largest flat panel display manufacturer in mainland China from 2014 to 2017, accounting for 38% of the total sales revenue in mainland China. With the introduction of high-order LTPS TFT LCD, Oxide TFT LCD and AMOLED technology, After the proportion is expected to break through 4 percent mark.
Overall mainland manufacturers in the TFT LCD panel global revenue share is expected to reach 17.4% in 2017, compared to only 11.4% in 2013, showing a significant growth trend.