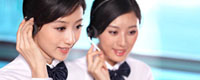 Name: Cassie.Huang
Tel: +86-755-27864416
Fax: +86-755-27864653
Mobile: 15989366182
E-mail: cassie@rxxdisplay.com
Skype: live:cassie_1191
QQ: 2850818618




Company News
>> 2017 AMOLED display panel shipments will reach 150 million 17th,Mar,2017
As a result of the smartphone screen changes to stimulate the promotion, analysts predict 2017 smart machine flexible AMOLED display panel shipments are expected to reach 150 million, is three times this year's shipments. The following are the same as the "
At present, Samsung shows the company is leading the global supply of AMOLED panel. As the global flexible AMOLED panel next year in short supply, may only be Apple and Samsung Electronics to get enough supply to meet their needs.
It is understood that, compared with the flexible AMOLED panel, low-temperature polysilicon panel advantage is to make the screen frame to do more narrow. 2017, equipped with low-temperature polysilicon panel intelligent machine screen ratio will be more than 90%.
Reported that Apple will launch next year with a flexible AMOLED screen 5.8-inch iPhone, and equipped with low-temperature polysilicon thin film transistor LCD panel 4.7 inch / 5.5 inch iPhone models. In addition, Huawei, OPPO, vivo and other Chinese manufacturers will also be released with a flexible AMOLED panel phone.