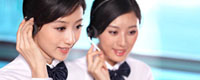 Name: Cassie.Huang
Tel: +86-755-27864416
Fax: +86-755-27864653
Mobile: 15989366182
E-mail: cassie@rxxdisplay.com
Skype: live:cassie_1191
QQ: 2850818618




Company News
>> Suspected Samsung wrong crown Beijing Oriental rumor: LCD five generations of lines are still in production 22th,Mar,2017
Recently, the media appeared Oolong, reported that panel makers BOE (BOE) will be the first quarter of next year to close the second LCD five generations of plants. BOE responded that there was a fundamental factual error in the report. According to the author to understand, suspected to be written in the wrong letter SID BOE.
According to the author understand that the current BOE only one LCD five production lines, for the production of small and medium size LCD LCD panel, and is still in production. BOE sent to the home network data show that it has never been L5, L6 for the panel production line named, BOE five generations of production line code-named B1. While the recent Samsung display (SDI) is scheduled to close the fifth generation of LCD production line L5, the option to close the fifth generation LCD production line L6.
Earlier, BOE Chairman Wang Dongsheng said in an interview, in the field of display, BOE in principle no longer invest in TFT-LCD production line, the future investment focus is active organic light-emitting diode (AMOLED) and other new generation of display technology, BOE According to customer needs and market changes to adjust the production line layout.
In March this year, BOE announced in Chengdu 6th generation LTPS / AMOLED production line project investment of 22 billion yuan on the basis of the proposed investment of 24.5 billion yuan for the 6th generation of Chengdu LTPS / AMOLED production line project construction. This production line production AMOLED display products, the main small and medium-sized high-end display market. The production line will become the first high-generation flexible AMOLED production line, and will enter the mass production stage in the fourth quarter of 2017.
At the same time, BOE in the Ordos B6 factory AMOLED production line LCD mobile phone panel production and sales. Millet company's latest release of red rice Pro smart phone is used in the BOOL AMOLED screen.
In recent years, OLED TV market scale gradually expanded, South Korea LGD is the world to promote OLED applications on the big screen, its production line involving 55 inches, 65 inches and 77 inches, of which 55-inch OLED TV finished price is Yuan sink, is expected next year will become the market impulse products. Skyworth has been in China to achieve OLED TV sales of nearly one hundred thousand units, and in the recent IFA show, the German brand Meizi also announced in Europe production OLED TV. BOE Vice President Zhang Yu said that in addition to small and medium size AMOLED panel officially mass production into the market, the second half of BOE will produce large-size OLED TV screen, the main model is 55 inches. BOE in large-size OLED TV panel production to achieve a breakthrough, which means that the Korean enterprises will break the monopoly of OLED large-size panel to help Chinese TV companies to achieve display technology consumption upgrade.
In 2010, BOE Chairman Dong Dongsheng said: "BOE spent five years, independent research and development AMOLED innovative technology, has now broken through the technical bottlenecks and put into production 5.5 generation AMOLED production line, we have to dare to innovate, the Chinese AMOLED industry to achieve a global leader. In the first half of this year, BOE through flexible adjustment of production line layout, continuous optimization of product structure, and actively respond to the external environment to bring operating pressure to achieve sustained growth in operating income. The first half of the estimated operating income of about 26.4 billion yuan, an increase of 15.14%, segment market share steadily improved.
According to IHS data show that as of the end of the second quarter, BOE smart phone LCD display, tablet PC market share continues to remain the world's first, display display, TV display rose to second in the world.
At present, BOE LCD panel display technology research and development, has reached the international leading level, recently held in 2016 Berlin International Consumer Electronics Show (IFA), BOE exhibited the world's first 65-inch 8K ultra-high-definition display products stand out, access to "IFA products Technology Innovation Award ".
BOE (BOE) Vice President Zhang Yu said that the rapid development of technology and the application of broad prospects, BOE always adhere to the forward-looking technology layout and independent innovation to lead the global display industry progress and development.