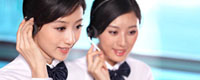 Name: Cassie.Huang
Tel: +86-755-27864416
Fax: +86-755-27864653
Mobile: 15989366182
E-mail: cassie@rxxdisplay.com
Skype: live:cassie_1191
QQ: 2850818618




Company News
>> ISuppli: 2010 small LCD panel shipments will double 31th,Mar,2017
Research firm iSuppli expects the 2010 shipments to be achieved due to the drop in price, demand and capacity expansion, for small and medium-sized LCD panels up to 10 inches for portable navigation devices (PND) 60.2 million, compared with 30.6 million in 2007. Grow nearly 2 times.
If the annual compound growth rate of 17.3% in 2007 estimates, by 2012, the shipment may break to 68 million. The estimated (2008) annual 43.6 million shipments, compared with last year grew 42.6%.
ISuppli reports predictions that the 2010 PNDs LCD display revenue will peak at $ 1 billion. However, iSuppli analysts believe that the next few years, although the steady growth in shipments, but the price drop will lead to revenue began to decline. According to the annual compound annual growth rate of 6.9% in 2007, PNDs' display revenue is expected to increase from $ 677 million to $ 945 million by 2012.
PNDs are equipped with GPS satellite navigation system with the vehicle, sold in the automotive components market, the owners are mostly used to replace the original vehicle navigation system. Now several convenient features of PNDs also let the driver rush, such as vocal command navigation, 3D stereo map, the appearance of thinner and lighter, LCD wide screen, touch screen, can be equipped with mobile phone SIM card slot, Bluetooth transmission technology, Greater hard disk space and real-time traffic updates.
ISuppli analyst Vinita Jakhanwal that PNDs was originally expensive expensive car products, and now manufacturers only spent two years to successfully let PNDs resident in the car, as a modern driver driving an indispensable equipment. Today's PNDs have three leading brands: Garmin, TomTom and Mio, and its main sales market is mostly distributed in Europe and the United States.