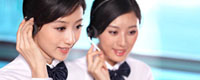 Name: Cassie.Huang
Tel: +86-755-27864416
Fax: +86-755-27864653
Mobile: 15989366182
E-mail: cassie@rxxdisplay.com
Skype: live:cassie_1191
QQ: 2850818618




Company News
>> HTC10 screen panel is not AMOLED but Super LCD5 7th,Apr,2017
Recently on the new flagship mobile phone HTC10 rumors continue, while the national line of dual 4G version of HTC10 mobile phone has also appeared to the Ministry of Industry, and HTC official posters have repeatedly postponed HTC10 mobile phone, and said it will be equipped with world-class dual lens. Following the HTC10 is expected to be officially listed on April 19, and now the smart phone broke the news of God @ Evleaks once again exposed the HTC10 mobile phone screen information.
Evleaks said in Twitter, HTC10 mobile phone screen panel material is not AMOLED, but the use of the new "Super LCD5" material. Moreover, HTC10 mobile phone will also be built 3000mAh battery.
HTC10 screen panel is not AMOLED but SuperLCD5
It is reported that Super LCD panel is also known as "Super LCD2". Super LCD2 in the display of text when the details of the performance is particularly strong, the video is also more clear, showing the white background when the power consumption is lower than the traditional LCD panel. But there is no data that Super LCD5 on behalf of what may be Super LCD upgrade technology.
Comprehensive previous news shows, HTC10 mobile phone design is still inherited the previous integration of the fuselage, but also removed the widely criticized the "more chin" - front Logo and front dual speakers.
HTC10 screen panel is not AMOLED but Super LCD5
In addition, HTC10 may be equipped with a new 12 million pixel Sony IMX 378 sensor, Google Nexus 5X / 6P with a single pixel size of 1.55um or so, and supports laser-assisted focus and optical image stabilization feature, front 500 million pixels Ultra Pixe Lens.
Other configurations, HTC10 will use 5.1-inch 2K touch screen, equipped with high-pass Xiao Long 820 processor, 4GB memory + 16GB / 32GB / 64GB three versions, support USBtype-C interface, built-in 3000 mAh battery, the same load Dual speakers, pre-installed Android 6.0.1 system and HTC Sense8.0 interface, providing black, white, gold, panda four colors, will be officially released on April 11.