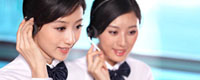 Name: Cassie.Huang
Tel: +86-755-27864416
Fax: +86-755-27864653
Mobile: 15989366182
E-mail: cassie@rxxdisplay.com
Skype: live:cassie_1191
QQ: 2850818618




Company News
>> 2021 OLED panel market size will reach 75 billion US dollars 26th,Apr,2017
Such as paper-like thin patch attached OLED, flexible OLED is expected to become the main TV products with OLED. Can reduce the production cost of large-size OLED panel inkjet printing process with the soluble material technology is close to the commercialization stage.
South Korea market research institutions UBI Research recently in the 2017 OLED Korea Forum revealed that the future OLED will have a higher performance, more yuan design, and investment costs are expected to gradually reduce.
LG Display (LG Display) Research Institute Yin Zhu Rong believes that the future large-size OLED TV can be evolved into the wall attached to the ultra-thin wallpaper and flexible form. OLED panels are thinner than LCDs and have the advantage of being free in shape such as bending or winding. The LG display began production in 2017 as a wallpaper-like slim panel.
In the global high-end television market, OLED TV proportion is rapidly rising, the long term, is expected to cross the high-end market, into the mid-market, towards the popular.
Yin Zhurong pointed out that in 2017 Sony will join the OLED TV camp, there will be more TV manufacturers to launch OLED products. 2016 large-size OLED panel shipments of 900,000, 2017 is expected to grow to 1.7 million to 1.9 million.
Yin Zhurong also said that the LG display will be prepared by 2020 about 80-inch 8K resolution panel. Panel prices will be reduced with capacity expansion, long-term goal in the high-resolution OLED panel supply price is lower than the LCD panel, is currently continuing research and development technology and expand production capacity.
One of the core technologies to reduce the cost of OLED panel production is inkjet printing. UDC (Universal Display Corporation), Merck (Merck), DuPont (DuPont) and other manufacturers have begun to develop solution form of OLED materials. In addition to research to enhance the useful life of OLED materials, efficiency, color performance, low power consumption and other basic performance, the industry for the production of the most suitable for inkjet printing materials, is also accelerating research and development. At present, South Korea and the mainland are actively discuss the introduction of OLED inkjet printing technology.
Inkjet printing technology. General OLED is red (R), green (G), blue (B) three primary colors side by side, but the UDC structure is yellow (Y) and blue pixels side by side, yellow pixels and then configure the red and green pixels with color filter sheet.
UDC vice president Mike Hack said that the product color reproduction is quite high, and for large size and small size OLED panels, and can reduce the pattern of vapor deposition process to 2 stages, effectively reduce costs.
The panel makers continue to study how to use OLED design freedom of high advantage, the global OLED market is expected to grow rapidly in 2021.
UBI Research data pointed out that the 2021 OLED panel market size to shipments will grow to 1.7 billion, to about $ 75 billion in revenue. South Korea panel plant market share of about 80%, the mainland panel factory accounted for 10 to 15%.
2017 OLED production capacity investment, South Korea, 14.6 million per month, the mainland 105,000, the mainland's investment than in 2016 increased by 1.8 times. 6 production lines accounted for about 81% of the overall capacity investment, 23.5 million, 20 times more than 2016 increase.