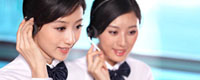 Name: Cassie.Huang
Tel: +86-755-27864416
Fax: +86-755-27864653
Mobile: 15989366182
E-mail: cassie@rxxdisplay.com
Skype: live:cassie_1191
QQ: 2850818618




Company News
>> Breakthrough LCD Red Sea OLED TV will account for half of the market 12th,Jan,2017
In recent years, the growth momentum of the display market began to weaken, with LCD TV as the absolute dominant global TV market is highly saturated, according to authoritative research firm IHS research data show that 2014-2020, the global LCD TV market average annual growth rate (CAGR) Only 1.4%. In addition, the Ovid Cloud Network (AVC) on the "2016 China's color TV market in the third quarter summary," the report also mentioned that although the color TV market is still growing trend, but sales fell 5.9% in the third quarter, Amount of "the embarrassing situation is still pending. It can be said that the display industry needs to break through the LCD of the Red Sea, ushered in a complete transformation of the OLED transition.
It is understood that, IHS data show that from 2018 to start OLED organic TV will occupy the global high-end market share of more than 50% to 2.3 million units. China as a global market, a very important part of the global high-end television market will account for nearly 1/5, that in 2018, OLED TV, or will occupy 54% of China's high-end market.
The face of difficulties, many LCD TV manufacturers are also seeking a breakthrough, there are some LCD-based optimization techniques, like quantum dot technology, but its progress is not very smooth. Recently, news of QD Vision Taiwan Qidong industry suffered a major shareholder divestment, team demobilization and shutdown of the "death crisis." This is undoubtedly for the development of quantum dot television cast a shadow. Experts said, LCD market saturation and LCD-based optimization technology is difficult to break, to stimulate the display industry needs to further breakthrough in the power, which has become an external factor in OLED growth. But for the OLED, the reason why can become the choice of the times, the fundamental reason or compared to the LCD showed great advantage.
As the technology matures, OLED's leading edge to further expand. LG Display OLED Division Lu Xiangde recently introduced, OLED panel production yield has remained stable at more than 80%, and to ensure a monthly production capacity of more than 100,000. At the same time, through continuous production line investment, in 2017 plans to increase production capacity to more than 2 million in 2018 to further expand to 2.7 million of production capacity, OLED growth will continue. It is understood that the current OLED products in terms of quality, has reached the average family to use 17 years will not be any problem level.
In addition, OLED huge advantage under the influence of, OLED camp has been further expanded. At this year's IFA show in Germany, the number of companies exhibiting OLED products increased from five to nine last year, including Skyworth, Changhong, Philips, Midea, Grundig, Loewe, Vestel and Matsushita and Korea LG Electronics are involved.