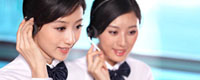 Name: Cassie.Huang
Tel: +86-755-27864416
Fax: +86-755-27864653
Mobile: 15989366182
E-mail: cassie@rxxdisplay.com
Skype: live:cassie_1191
QQ: 2850818618




Company News
>> Sharp: OLED technology is still not mature LCD is still the main force 23th,June,2017
With more and more brands to show the favor of OLED, OLED has been recognized as the industry's next generation of display technology, the main force, and adhere to the LCD screen for many years Apple also came out in the next generation iPhone 8 will be equipped with OLED screen of the message, but this means that the LCD screen began to end it?
Sharp's new CEO Dai Zhengwu does not agree with this argument, he believes that OLED future development prospects are unknown, the current technology is not mature, can not mass production of high-quality products; the other hand, LCD screen is due to years of development, its technology is very mature , Sharp is one of the best, so although Sharp has produced OLED panel samples, but whether the full production has not yet decided.
Analysts said that Sharp's OLED technology is far behind Samsung, LG and other competitors, and this technology also requires huge capital investment. How to activate the deep accumulation of Sharp technology, has become Hon Hai in the high-end panel technology, beyond the Korean manufacturers of one of the key points, which, Hon Hai has invested 200 billion yen for OLED research and development, but this time Dai Zhengwu Of the words and let the whole thing become complicated and confusing.
At present, the iPhone screen suppliers mainly from Sharp, Japan Display and LG Display, if the next generation iPhone 8 switch OLED screen, then as the "OLED first supplier" Samsung will be able to swallow the bulk of orders, and the lack of OLED technology Sharp will fall into an awkward situation. Rumors that Apple intends to cooperate with Sharp, I wonder if you can help Sharp?