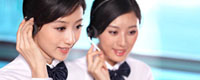 Name: Cassie.Huang
Tel: +86-755-27864416
Fax: +86-755-27864653
Mobile: 15989366182
E-mail: cassie@rxxdisplay.com
Skype: live:cassie_1191
QQ: 2850818618




Company News
>> Flexible OLED panels will be the biggest driving force for the development of curved handsets 30th,June,2017
At present in the smart phone market, the surface screen just started a small attempt, but in fact the entire OLED display industry are looking for a chance to make themselves more prosperous, including the entire smart phone, tablet PC, TV or even wearable equipment. According to IDTechEx research report, flexible OLED market this year, the overall revenue will reach 12 billion US dollars, and by 2026 the market income will reach 57 billion US dollars.
At present the whole market has begun from the transition phase to the development of new display materials, and has begun to understand the small size of mobile devices to new materials, such as polyamide. The current flexible substrate products have begun to use in the market, including Samsung Galaxy S7 Edge and Apple Watch and so on.
And smart phones will become the biggest target of the surface OLED market, while the Tablet PC and notebook computers will also become the main group in 2020. At present, the latest type of flexible OLED panel, both in terms of thickness and weight of glass panels, is less than the usual solution, so it can provide manufacturers with more space to add other components, such as to increase battery capacity. While the automotive industry will become the main audience of the OLED industry, and the current industry's production technology is constantly becoming more mature.
Flexible OLED panels will be the biggest driving force for the development of curved handsets
Looking further, IDTechEx predicts that there will be real flexible or collapsible equipment coming in the future, and in recent years we have seen a lot of prototype products, such as HoloFlex holographic projection smart phone is a good example, and looks very interesting. In the new market and virtual reality areas, the short term also need obvious technical upgrading. Like HTC, Oculus, Sony and other virtual reality equipment manufacturers are in the pursuit of lighter and more portable headset products, so flexible OLED panels also have room for improvement.
In addition, there are TV field, the current price of OLED technology as a whole is still high cost, although 4K OLED TV has begun to appear in the market, but now has a quantum dot technology LCD TV is still more suitable for budget limited ordinary consumers.
The report also said that the future of Samsung and LG will become the OLED industry's two main suppliers, and will continue to increase production capacity to expand investment. Such as Samsung Display plans to invest more than $ 3 billion in 2015 to 2017 to establish a new production line, and LG Display also said that the future will invest more than 9 billion US dollars to establish a new factory. So in the next few years, with the continuous progress of technology and the continuous reduction of cost, flexible OLED panel applications will be more extensive.