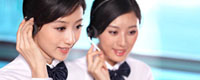 Name: Cassie.Huang
Tel: +86-755-27864416
Fax: +86-755-27864653
Mobile: 15989366182
E-mail: cassie@rxxdisplay.com
Skype: live:cassie_1191
QQ: 2850818618




Company News
>> Sony, Samsung plans to build a third LCD panel factory in Korea 7th,July,2017
Sony, Samsung is planning to build a third LCD panel factory in Korea. The new production line costs $ 1.8 billion, mainly by the S-LCD is responsible for the preparation, is expected to begin delivery in the second quarter of 2009.
The production line is based on the eighth generation technology, technology code 8-2. This means that they can cut out the 2200 x 2500mm panel from the glass master. In fact, S-LCD from already very early in the use of the eighth generation technology, technology code 8-1. However, the use of updated technology means that when cutting large panels can effectively reduce costs. The new plant is expected to cut 60,000 glass masters per month, and plants with 8-1 technology can only handle 50,000 per month.
For the injection of new plant funds, according to published news, Samsung 51%, while Sony is 49%. This is also in line with the proportion of shares held by the two companies in the joint venture S-LCD.
In fact, in February this year, Sony hopes to invest in Sharp is building a production line in Japan, Sharp in the construction of the plant using more advanced tenth-generation technology, suitable for production in the 50 to 60-inch LCD panel. There was news that Sony had given up S-LCD and found a new partner. But now the situation shows that Sony still attaches importance to Samsung's joint venture S-LCD.