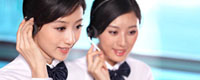 Name: Cassie.Huang
Tel: +86-755-27864416
Fax: +86-755-27864653
Mobile: 15989366182
E-mail: cassie@rxxdisplay.com
Skype: live:cassie_1191
QQ: 2850818618




Company News
>> AMOLED panel out of stock VR equipment will last until 2018 10th,August,2017
European and American traditional Christmas is coming, in the game as a young generation of festivals gift promotion, VR equipment sales will usher in an outbreak of growth opportunities. TrendForce State Technology Extension Industry Research Institute analysis, said 2016 annual VR equipment shipments totaled 2.91 million units, by 2017 will reach 5.1 million units, the annual growth rate of 75%.
From the enterprise shipments statistics, VR equipment shipments ranked the top three followed by Sony PS VR, Oculus Rift and HTC Vive. With the lack of AMOLED panel and the lack of yield in the production line, Sony's PS VR shipments this year, about 1.5 million units, although the highest in the three major brands in the highest volume of shipments in the three brands, , But because the PS VR with the game, at least half of the sales will be concentrated in December, so PS VR in the channel inventory will face a shortage situation. Therefore, Sony will try to increase the 2017 supply to compensate for the gap in 2016, coupled with many well-known third-party developers also expected in 2017 launched the new Sony exclusive VR game, estimated 2017 PS VR shipment year A growth rate of 66.7%, shipments will grow to 2.5 million units.
As for the pursuit of the two brands, Oculus Rift and HTC Vive 2016 shipments were only 65 million units and 460,000 units, although the market is still there is a demand gap, but its channel stocking will only be more and more tight , But not as a general shortage of PS VR. Oculus and HTC will continue to improve the supply chain situation, estimated shipments in 2017 will be increased to 1.2 million units and 600,000 units, the two major brands will also be in the fourth quarter of 2017 to 2018 in the first half of the introduction of new products, To stimulate market demand.