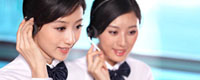 Name: Cassie.Huang
Tel: +86-755-27864416
Fax: +86-755-27864653
Mobile: 15989366182
E-mail: cassie@rxxdisplay.com
Skype: live:cassie_1191
QQ: 2850818618




Company News
>> BOE smart phone LCD panel shipments ranked first in the world 1st,Nov,2017
Recently, Qunzhi Consulting (Σintell) released the latest statistics. According to the show, the first half of 2016 global smart phone panel (to glass benchmark) shipments grew 7.6%. Which BOE (BOE) LCD panel shipments ranked first, shipments of over 150 million, since 2014, the succession of smart phone LCD panel shipments of the world's first.
Qunyi Consulting analyst Chen Lijuan told reporters that the first half of the 2016 BOE (BOE) smart phone panel shipments significantly lead the number of other industry players, of which, LTPS mobile phone panel shipments grew 95%, while In Cell panel shipments also accounted for Than nearly half, and the proportion is still rising.
In Cell and On Cell are the fastest-growing mainstream touch technology in recent years. In Cell and On Cell integrate the touch panel function with the LCD panel with respect to the original method used to set the touch panel on the LCD panel, where the In Cell technology achieves display and touch tightness with an integrated structure Integration, with high integration, thin thickness, touch sensitive and other advantages. Users who use the In Cell touch technology product can experience a natural, non-delayed human-computer interaction experience.
"BOE is the first in China and Taiwan, including China to achieve FHD In Cell product production panel factory, with Japanese and Korean manufacturers on the same stage of competition, in many brands of certified client production," Chen Lijuan introduced.
It is understood that BOE (BOE) actively layout of new technologies, mobile phone On Cell panel product shipments continue to maintain the first, In Cell products for many first-line brand customers supply.
BOE (BOE) Senior Vice President Zhang Yu said: "BOE has continuously promoted the introduction of new technologies and new products, and partners to create market demand.Currently, BOE has been with domestic and foreign high-quality customers to establish a close relationship. At the same time, BOE For the production of mobile phone display Chengdu 4.5 on behalf of the line, Beijing 5 on behalf of the line and the Ordos 5.5 generation line continued full, Hefei 6 generation line also has some production capacity for mobile phone display production to ensure that the market supply.