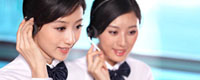 Name: Cassie.Huang
Tel: +86-755-27864416
Fax: +86-755-27864653
Mobile: 15989366182
E-mail: cassie@rxxdisplay.com
Skype: live:cassie_1191
QQ: 2850818618




Company News
>> Samsung LCD panel sales for 21 consecutive months dominate the world 28th,Nov,2017
According to the Display Search recently released in January 2007 global LCD panel makers sales report, Samsung Electronics in January this year, LCD panel sales of 1.255 billion US dollars, compared with 11.98 billion in December last year, an increase of 5% over last year The same period of 1.101 billion U.S. dollars, up 13%, and has dominated the world for 21 consecutive months. In addition, Samsung's sales in large panels also topped 1.11 billion U.S. dollars.
Samsung Electronics pointed out that sales of large widescreen displays and more than 40-inch TV panels increase, making the overall area of ?? sales, and large products have higher than the market average ASP (average sales price), so sales will continue increase. Samsung's January large-panel ASP was $ 216 in January, about 30% above the $ 165 in the global LCD market.
In terms of countries, sales of LCD panels in South Korea in January were $ 2.23 billion, an increase of 7.6% over last year's 2.07 billion U.S. dollars, compared to 1.89 billion U.S. dollars in Taiwan, up from 2.032 billion yuan in December last year US dollar, a decline of 6.6%, the gap between the two sides from 410,000 US dollars, expanding to 332 million US dollars.