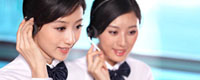 Name: Cassie.Huang
Tel: +86-755-27864416
Fax: +86-755-27864653
Mobile: 15989366182
E-mail: cassie@rxxdisplay.com
Skype: live:cassie_1191
QQ: 2850818618




Company News
>> Global TFT LCD Panel Industry Observation and Development in 2007 28th,Nov,2017
First, the market status and outlook
The global TFT TFT LCD output in 2006 is estimated to be US $ 57,195 million (Table 1), an increase of nearly 25% from US $ 43,234 million in 2005. The major growth drivers come from the end consumer market demand for large TFT LCD panels, especially the widescreen NB, Monitor, and LCD TV.
Table I 2006-2011 global large-size TFT LCD output value
In the large TFT LCD panel, the application market is mainly NB, Monitor, LCD TV and other products, NB, Monitor growth is the decisive factor in Microsoft's Vista operating system, Vista listing is expected to drive the demand for wide-screen products. Another growth driver comes from LCD TV. Even though the demand and importance of TFT LCD panels have been on the rise, it is undeniable that manufacturers have been suffering from the rapid price drop since the first quarter of 2006.
Looking forward to 2007, LCD TV screen size, thanks to the expansion of a new generation of panel makers, the screen size is expected to develop to 40 to 50 inches and become mainstream. In response to the progress of the panel reaction, Sharp has developed a 4ms model in 2006 and is expected to achieve faster reaction times and further reduce residue by 2007 with the continued support of LED backlights and new liquid crystal materials Shadow phenomenon. In addition, efforts to improve color reproducibility, the future should be gradually toward using LED as a backlight to improve panel color performance, while reducing panel power consumption.
The global shipments of large TFT LCDs in 2006 are expected to be as shown in Figure 1, an increase of 25% from 2005 to 260 million units, of which 76,680 units are expected for notebook computer panels. The monitor panel Shipments of 130 million, LCD TV 49 million. It is expected that the total number of shipments in 2007 will reach 301 million, shipments of notebook computers will be 93.15 million, and monitor panels will ship 150 million units. The LCD TV will have the opportunity Break 70 million.
The world's largest TFT LCD shipments in 2006 accounted for the largest share of the monitor, reaching 52.5%, followed by the notebook computer screen accounted for about 28.9%, while the TV from 13% in 2005 rose to 18%. Most notably, LCD TV panel shipments increased year by year, is expected by 2010, will reach nearly 30% of the ratio.
Figure I 2004-2009 global large-size TFT LCD shipping market in various applications and the proportion of gravity distribution
Second, the major manufacturers trends
In the fourth quarter of 2005, Sharp lost LCD TV sales to Sony's Bravia due to its lack of capacity. In order to regain its leadership position in LCD TV, Sharp leads other panel makers and plans to build the world's first 8-generation line (2,160 × 2,400mm2). The production line was mass-produced in August 2006. The substrate can cut 46-inch 8-face, 47-inch 6-face or 52-inch 6-face.
In the face of future market layout, Sharp predicts LCD TV market will reach 66 million units in 2007, so the company is still confident of the market in 2007. Sharp's strategy in the future will start from Japan, attacking North America and Europe while looking at the Chinese market, and put forward the view that China's LCD TV will have a capacity of 4 million units in 2006. This will also prompt Sharp to actively expand the coverage of Kameyama in 2007 8 on behalf of the production line for the current doubled, while the amount of 30,000 units on the production scale.
Samsung's revenue in TFT LCD panels in 2006 is estimated to be about 11.9 billion U.S. dollars. Thanks to the substantial growth of its own-brand LCD TV market in 2006 and the expanded panel demand for Sony foundry, Samsung TFT LCD business The leaping growth.
The second generation of 7 lines (L7-2) Samsung will launch a substantial advance to the first quarter of 2006, in an attempt to pre-empt production to seize the market. Samsung's S-LCD in the production experience, with its L7-2 production line learning curve significantly shortened, production capacity will be more rapid increase, Samsung not only a substantial expansion to enhance the L7-2's cast to 90000, At the same time, the layout of the 8th generation line started in mid-2006 and is expected to be mass-produced by mid-2007.
Currently Samsung's panel production planning and LCD TV sales strategy is mainly followed by the pace of Sony, which is indirectly contributed to Samsung's sales in North America, Europe, the reason why so much. In 2007, it is expected that Samsung will continue to play an important role in the global sales of LCD TVs and will share the world with other strong brands.
LPL surpassed Samsung as the world's largest TFT LCD maker since 2002, and its total revenue in 2005 continued to surpass Samsung, reaching a scale of 9.8 billion U.S. dollars. However, there was a sharp reshuffle in 2006. LPL first failed in four years and its revenue lost to Samsung, which is estimated to reach only 10.6 billion U.S. dollars.
Subject to poor sales results and depreciation charges of 7.5 generations, LPL suffered a huge loss since the second quarter of 2006 and its operating profit showed a black-out for two consecutive quarters. The seriously injured LPL re-examined its production investment strategy. Its production line planning in 2007 decided to use IT panels as its main axis. It is estimated that the 5.5-generation line will be put into operation and the profit-making operation will be the top priority.
The future LPL due to backhand investment 5.5 generation line and accelerate the use of IT panel layout, the main cutting products for the 14.1W, 15.4W NB panel and 22W monitor panel, the market even came out LPL intend to use 7.5 generations of lines to cut widescreen monitor panel If LPL production capacity is fully released, will force the price of the panel with IT even more test, will also make 2007 Q1 and Q2 panel off-season produce worse effect, it is worth a lot of attention.