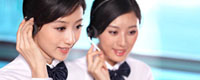 Name: Cassie.Huang
Tel: +86-755-27864416
Fax: +86-755-27864653
Mobile: 15989366182
E-mail: cassie@rxxdisplay.com
Skype: live:cassie_1191
QQ: 2850818618




Company News
>> Diversification of LCD panel display technology is still the mainstream in the short term 11th,Dec,2017
LCD liquid crystal technology to show tenacious vitality
From full HD to ultra-high definition display technology, from "flat screen" to the unique surface display technology, LCD liquid crystal technology has shown great vitality.
2013 is the beginning of UHD, with only about 900,000 units sold in mainland China. After entering 2014, the screen factory seize the development opportunity to fully upgrade the LCD TV resolution, large-scale 4K to market; in order to further enhance the quality, the screen factory and even introduced the 8K display panel, the full layout of ultra-high definition display. At present, 2014 is bound to be the year of UHD's outbreak with the increasing coverage size and functionality of 4K TV and its more affordable prices. According to AVC forecast data, the number of UHD panels scheduled for shipment in mainland China in 2014 will reach 13.9 million, and the sales of UHD terminals are expected to exceed 10 million units.
Following the first release in 2013, Sony LCD TV surface into the public view so far, there are many companies have introduced new curved surface TV. Although 4K is the mainstream at present, there are still limitations of live broadcasting and content so that consumers may not feel obvious differences. In addition, the current LCD curved TV is only a change in physical form and does not involve a great technological leap forward. At present, the major front-line panel manufacturers have the ability to launch the surface of the module, or supply can be bent Open Cell to the whole machine manufacturers, and then by the machine manufacturers in the system side of the production of curved LCD TV. Therefore, the promotion of "curved TV" as a new trend will be a good marketing point.
Dong Min stressed that the size of the curved surface of the future development of space is not the focus of technology, capacity, or even cost, but the market needs to be verified consumer acceptance may be. In addition, taking into account the screen surface yield is low, expensive, showing the perspective and presence will take some time to improve, "It is expected that the prospects for the development of curved TV remains to be seen."