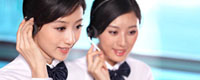 Name: Cassie.Huang
Tel: +86-755-27864416
Fax: +86-755-27864653
Mobile: 15989366182
E-mail: cassie@rxxdisplay.com
Skype: live:cassie_1191
QQ: 2850818618




Company News
>> Touch Panel Business Interface Hunan plant 164 million yuan was auctioned 13th,Dec,2017
Photovoltaic Taiwan announced yesterday that the company Hunan Branch and Bank of China Liuyang Branch of the financial loan contract dispute case, has received the subsidiary of Optoelectronics (Hunan) Co., Ltd. land, dormitories, plant on September 29 auction notice, The auction price was 164 million yuan.
Interface Optoelectronics January 2016 Board of Directors resolution, through the full stoppage of the interface Optoelectronics (Hunan) Company; and intends to sell its name of the land, plant, machinery and equipment and other assets used to repay the debt.
Due to the indium tin oxide touch conductive film used in the touch panel, the application in the consumer market has entered the vicious price competition phase, making the performance of the touch panel factory downturn. In addition to the interface financial crisis, the past touch panel faucet foreign China, also fade out of consumer electronics touch panel production.
As for the earlier touch panel factory in Taiwan Shenghua has also been the market restructuring, TPK Chen Hong's Dahong, it is because the debt is greater than the assets and filed for bankruptcy.
As for Taiwan, the interface to apply for debt and debt negotiations early this year, and the largest creditor bank cooperation treasury business negotiations, the company claims liquidation program, has been the total debt over 98.9% of financial institutions signed the agreement. The maturities of borrowings of all financial institutions are extended for one year and extended until March 1, 2017.