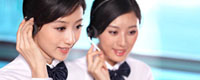 Name: Cassie.Huang
Tel: +86-755-27864416
Fax: +86-755-27864653
Mobile: 15989366182
E-mail: cassie@rxxdisplay.com
Skype: live:cassie_1191
QQ: 2850818618




Company News
>> Shenyang OLED Experience Museum completed public feeling zero distance black technology 14th,Dec,2017
This year, OLED Innovative Technology Experience Center has one after another stationed in China's major cities core appliance stores, Beijing, Shanghai, Guangzhou, Shenzhen, Nanjing and other places of the OLED Experience Museum has become a consumer experience shows that black technology base.
Recently, Shenyang, an important central city in northeast China, also ushered in the OLED Innovative Technology Experience Hall, which created the concept of "changing lifestyles of OLEDs" and aroused enthusiastic responses among consumers.
OLED to change the way of life
Into the United States in Shenyang Tiexi Gome OLED Innovative Technology Experience Hall, the venue shows the screen is only 2.57mm wallpaper TV, by six 65-inch OLED panels spliced ​​into a double-sided wave TV, the screen can make a spontaneous sound of the screen Acoustic TV, 65-inch concave (up to a semicircle) curvature at 500R, and display products that break through traditional TV forms or concepts, such as double-sided OLED TVs.
Such as experience museum OLED wallpaper television, the TV screen thickness of only 2.57mm, so "thin as onion skin," the ultimate slim can not do without OLED self-luminous structure. In addition, OLED also has deep black performance, ultra-wide viewing angle, almost infinite contrast and other image quality advantages, it is widely recognized by the industry as "the next generation of display technology."
Very special point is that this OLED wallpaper and television in the standby state can gallery, casual and other scene modes. In addition, the screen can be spontaneous TV products are very eye-catching, compared with the traditional TV has a more sense of space, three-dimensional, immersive sound field performance.
OLED changes the industry pattern
Currently, the display industry is highly competitive, but OLEDs are quietly changing the landscape of the display industry.
On the one hand, the OLED camp has grown rapidly. In early 2016, there were only 5 OLED TV manufacturers in the world. By 2017, there are already 13 major TV manufacturers in the world that have launched OLED TVs and are still showing an ever-expanding trend. In the Chinese market, most mainstream TV manufacturers such as Skyworth, Konka, Changhong, LG Electronics, Sony and Philips have made significant efforts in OLED TVs. Market, OLED TV in the second half of 2017 the TV market performance can be quite eye-catching. According to big data of AVC, the sales volume of the domestic color TV market dropped by 15.6% YoY and the sales volume dropped by 11.9% YoY in the past Golden Week. However, the sales volume of OLED TVs An increase of 145% compared with the same period of last year, realizing the contrarian growth.
Park Chang Hyuk, general manager of LG Display OLED global marketing, said: "Based on the quality and design advantages, OLED is the best carrier of the future display era, allowing people to see richer, more valuable and more interesting information anytime, anywhere ".