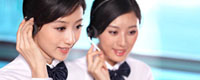 Name: Cassie.Huang
Tel: +86-755-27864416
Fax: +86-755-27864653
Mobile: 15989366182
E-mail: cassie@rxxdisplay.com
Skype: live:cassie_1191
QQ: 2850818618




Company News
>> LCD panel structure adjustment: supply and demand will improve in 2014 16th,Dec,2017
Investment perspective
LCD panel: prices continue to fall, still in structural adjustment, supply and demand in 2014 to improve the probability of larger. Medium and large size terminal brand manufacturers stock is still high, the price is difficult to support; small and medium size mobile phone, pad demand is still growing, but due to increased supply, the price loosening, the downward pressure on the larger; Outlook 2014, demand growth is expected to outweigh the supply Growth and improve the supply and demand, medium and large size prices are expected to stop falling; from the industrial structure, the domestic panel supply accounted for up to 10% in 2014 is expected to continue to improve. TP touch panel: small and medium-sized touch structure adjustment, closure plant closure speed, the large size is still the biggest obstacle. Small and medium size touch demand growth declined, the yield increased, supply continued to increase, the price pressure continued, competition intensified; large size ITO prices higher, new materials alternative to accelerate, the middle and lower order is expected to boost penetration. Recommended attention: San'an Optoelectronics, Nantong Optoelectronics, Poly fly photoelectric, Mao Shuo power. LCD panel: BOE A, Jin Fu new material; concerned about the end of the policy-oriented.
LED lighting is expected to grow in 2014: Backlighting Applications With the launch of the marketing season at the end of the year, there is an urgent demand but it is difficult to maintain a long term. Lighting applications should also be incorporated into holiday promotions and internet sales to try to enhance consumer awareness and reduce costs. From March to April 2014, new products are on the market, prices may further decline, stimulate demand and look forward to lighting and backlight applications dual-drive, backlight and lighting conversion. Looking from the industrial chain, still optimistic about the upstream industry chain epitaxial chips and materials related vendors, supply and demand is expected to improve the relationship than expected.
(1) Domestic production of equipment is lower than expected LED companies cautious domestic MOCVD (2) LED lighting layout is complete, the estimated proportion of annual revenue up to 40% (3) (4) 2014 FlashLED market trend will appear M-type (5) Demand does not start to increase profit LED business throws money for investment and scale effect (6) 2014 LED lighting needs of the first ultra-bright backlight increased by LED factory bargaining space (7) (8) Global Panel October Revenue 6.9 Billion USD (19%) (9) Global Panel Factory Q4 Continues to Depleplate (10) Sharp Increase in Shipment of LCD Monitors in October 11) Structural Adjustment of Industrial Panels for Exit / Shutdown and Touch Panels (12) Intellectual Property Challenges for Touch Panels TPK v. Patent Reexamination Board Institutional Views: LEDinside: Demand for LED Lighting and Handheld Devices Increased, Sapphire Substrate Manufacturers Actively Expanding Production
This week A shares of photovoltaic industry stocks, Hua Can Optoelectronics, San'an Optoelectronics, Han's Laser, Silan, Jufei Optoelectronics Top 5; CPT, Crystal Optoelectronics, Dongshan Precision, Gems A, Hisense appliances home decline Top 5; Lehman Optoelectronics, East Crystal Electronics, Branch constant shares, rectangular lighting, Chau Ming-technology turnover in the top 5.