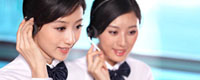 Name: Cassie.Huang
Tel: +86-755-27864416
Fax: +86-755-27864653
Mobile: 15989366182
E-mail: cassie@rxxdisplay.com
Skype: live:cassie_1191
QQ: 2850818618




Company News
>> AMOLED panel production costs have formed a golden cross with the LCD 21th,Dec,2017
High-resolution AMOLED panel completely replace the LCD day is not far, IHS latest report pointed out that AMOLED panel production costs have formed a golden cross with the LCD, both in the first quarter production costs were 14.3 US dollars and 14.6 US dollars.
AMOLED LCD backlight without backlight more energy efficient, and the color and contrast performance is relatively good, and if the cost advantage, secular and bowl of AMOLED, will undoubtedly become the first choice for smart phone manufacturers, a full replacement of LCD just around the corner.
AMOLED has been able to achieve such rapid milestones thanks in large part to panel makers' improved technology, improved yield, coupled with increased capacity utilization and the near-completion of depreciation of the product line, significantly reducing fixed cost per unit costs.
Samsung is not only far ahead in the field of AMOLED technology, handset panel will be expected last year to alternate generations, accelerating the layout of small panels is more prescient. Benefiting from the orders from major handset manufacturers in China, Samsung's Display production capacity utilization is currently near full capacity, reaching 90-95%. Compared with the 70% capacity utilization rate, IHS estimates Samsung's production cost can be reduced by 16% .