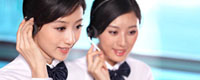 Name: Cassie.Huang
Tel: +86-755-27864416
Fax: +86-755-27864653
Mobile: 15989366182
E-mail: cassie@rxxdisplay.com
Skype: live:cassie_1191
QQ: 2850818618




Company News
>> Experts suggest that Wuhan complement OLED TV industry chain to seize the market outlet 28th,Dec,2017
December 27, the first OLED Future TV Wuhan Summit held in Han. Experts predict that OLED TVs will usher in a market explosion in the next three years. At present, Wuhan has accumulated some technological R & D and production advantages in the field of OLED. It urgently needs to seize the outlet in the field of sales and form a one-stop market for R & D, production and sales Complete high-end display industry chain.
OLED full name "organic light-emitting diode," is recognized as the industry's next generation display technology. Compared with the popular LEDs on the market today, OLEDs do not need a backlight and only need a layer of light emitting layer to emit their own light. Therefore, the OLED has the characteristics of thin body, high contrast, rich colors, fast response and bendability. At present, domestic and foreign TV giants have invested heavily in building OLED TV production line, introduced a variety of "future television." According to the survey data, from January to October 2017, domestic OLED TV sales reached 52,000 units, an increase of 133.3% over the same period of 2016. It is predicted that by 2019 this sales will increase to 350,000 units.
Participating experts have mentioned that at present, Wuhan City, in the research and development sector relies on Wuhan Optoelectronics Technology Research Institute to cultivate a number of OLED technology research and development enterprises, many of the technology has been world-class level. In the production process, Wuhan attracted Huaxing, Tianma Microelectronics, BOE and other investment in the construction of the world's most advanced OLED production line. The next step should be made in the sales force, to guide the electrical retail enterprises to actively introduce, promote and sell OLED TVs, to seize the market outlet.
It is reported that at present the domestic color TV market, more than 50% of the OLED TVs are sold by Suning channels. Yuan Jing, general manager of Suning Tesco Hubei, said Suning, Hubei is using its own store advantages for the upstream OLED TV suppliers O2O integrated sales platform, "has been in Wuhan Suning Liberation Avenue shop to create OLED Innovative Technology Experience Hall, so that consumers Feel the fantastic visual enjoyment brought by the OLED, the next step will be more than 100 copies.