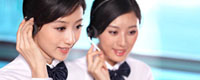 Name: Cassie.Huang
Tel: +86-755-27864416
Fax: +86-755-27864653
Mobile: 15989366182
E-mail: cassie@rxxdisplay.com
Skype: live:cassie_1191
QQ: 2850818618




Company News
>> China panel shipments over Japan and South Korea Samsung expansion OLED keep the advantage 4th,Jan,2017
Recently, the famous British research company ihs market released a global LCD panel research report. Among them, China BOE (boe) with global 22.3% of shipments, a total of more than South Korea's LG, a display panel company NO.1.
In recent years, with the rapid rise of BOE, AU Optronics and other enterprises, the panel technology pattern originally monopolized by Japanese and South Korean enterprises has quietly changed. According to data provided by ihs, the top five panel supply companies in the world are China BOE (22.3%), South Korea (21.6%), Taiwan AUO (16.4%) and Taiwan Genset Photoelectric (innolux, accounting for 15.7%), South Korea's Samsung Panel (9.9%).
Data China panel shipments exceeded Japan and South Korea for the first time
From the data point of view, Japanese companies have dropped out of the top five ranks, South Korea's only remaining "good brothers" combination. Instead, the sudden emergence of Chinese enterprises to become the main force. With the team's situation changed, many panel companies have also adjusted the strategy accordingly, insiders said that this year, both sides in the panel battle for the field will be very intense. For example, this year, Samsung Electronics will invest nearly 9 billion US dollars to expand oled production line, tcl also spent 35 billion yuan layout amoled flexible display panel.
At present, BOE shipments are larger than its peers in larger than 9-inch it LCDs, including tablet screens, laptop screens and monitors. Among them, the laptop screen is the BOE market share of the highest products, reaching 29%, ranked second in Taiwan Group Photoelectric market share of 20%.
According to Wu Rongbing, a senior analyst at ihs who is responsible for the research of LCD layout, "BOE has taken a very aggressive approach and is trying its best to increase its shipments as its competitors shift their focus to other areas."
In large-size TV display projects, such as large-size LCD TVs, ultra-high definition television and so on, South Korea lg still occupy market share of 21.4% ranked first. Followed by Taiwan's group to a photoelectric, share of 16.3%; BOE ranked third, to 15.9%.
Therefore, Wu Rongbing believes that South Korea's panel makers still have large-size panel technology and market share advantage, but he predicted that BOE will soon join the competition in the large panel. "2017 will be a year for Chinese panel makers to fully expand their business areas and enter the Korean-dominated large panel market."
This side panel manufacturers frequently accelerate the layout of the action
In fact, the layout of large-size BOE BOE long layout. As early as November 29 last year, BOE Hefei plant 10.5 tft-lcd production line to complete the cap. The commissioning of the panel plant is expected to increase BOE's share of the global premium panel market.
Coincidentally, another domestic panel makers - Huaxing photoelectric spotted timing, speed up the layout oled panel production line. March 31, tcl Group announced that its subsidiary Huaxing Power and Wuhan East Lake New Technology Development Zone has signed a 6-generation co-operation ltps-amoled project plans to invest in the plant to build a monthly capacity of 45,000 Zhang's 6th generation ltps-amoled flexible display panel (1500mm × 1850mm) production line will use advanced technologies such as flexible substrates for the most high-end panel products, flexible ltps process, high-efficiency oled, flexible touch and flexible cover, Vapor deposition of the production process, producing 3 to 12 inches high-resolution small and medium-sized flexible folding amoled display panel.
Announcement shows that this project is expected to start construction by June 30, 2017, mass production by 2020. The total investment of about 35 billion yuan. Among them, the project company registered capital of 210 billion yuan, Huaxing photoelectric invested 11 billion yuan, Wuhan City, East Lake Management Committee designated investment entity invested 10 billion yuan.
The amoled panels are ideal for applications such as foldable smartphones, wearable electronics, automotive and vr / ar displays because of their thin, flexible display, high contrast, and fast response. According to ihs data collation, ltps-lcd and ltps-amoled penetration rate in the global smartphone market continues to rise, in 2018 will reach 41% and 30%, respectively, occupy a major market share.
In addition, there is news that Apple also plans to introduce new smart phones this year, the beginning part of the amoled screen. The domestic mobile phone manufacturers represented by oppo, vivo and Huawei are gradually increasing the proportion of amoled applications in their high-end smartphones.