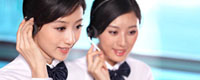 Name: Cassie.Huang
Tel: +86-755-27864416
Fax: +86-755-27864653
Mobile: 15989366182
E-mail: cassie@rxxdisplay.com
Skype: live:cassie_1191
QQ: 2850818618




Company News
>> AUO will set up the LCM plant in Europe 24th,Jan,2018
Taiwan panel maker AUO board of directors passed a resolution, will set up in Europe after the liquid crystal panel module (LCM) plant, the specific location and investment amount will be determined in the third quarter.
AUO said that in order to enhance the timeliness of supply to European customers and reduce the import tariff burden, LCM will be set up in Europe. Currently it has decided to select one of three locations in Poland, the Czech Republic and Slovakia. It is expected that the formal claw will be finalized at Q3 and currently The highest voice in Czech In fact, AUO's Czech Republic-based Czechoslovakia plant started production of a part of the LCD panel modules for AU Optronics since the fourth quarter of 2007.
AUO internal assessment, with a 10 to 15 lines of LCM plant point of view, the total investment amount should not exceed 10 billion NT, the current share of AUO panel sold in Europe has reached 30%, only because the European panel The production of spare parts can not yet be localized. Coupled with the high labor costs and shortcomings, the overall scale of the plant will have to be considered again.
AUO said that its LED business will operate independently, after all, LED-related applications are not only backlighting, other applications such as lighting is also very important, and the future of LED business will not just do AUO suppliers.
AUO pointed out that AU Optronics NB models are expected to fully import LED backlight 2012 progress will be reached ahead of schedule, the relevant layout will start from the backlight application, from the bottom up for resource integration, hoping to work together with other industry Bigger market pie, is expected to bring in the current industry will also be quite positive.
In addition, AUO has also decided to invest 1.5 billion Taiwan dollars to set up LED companies, Lunda Electronics. AUO 100% turn investment, plant will be set up in AUO L1 plant area, according to AUO camp plan, Ronda will gradually extend, wafer cutting, packaging, all the way to do the module segment products.