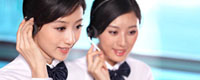 Name: Cassie.Huang
Tel: +86-755-27864416
Fax: +86-755-27864653
Mobile: 15989366182
E-mail: cassie@rxxdisplay.com
Skype: live:cassie_1191
QQ: 2850818618




Company News
>> Japan FPD material providers move closer to the LCD 25th,Jan,2018
LCD materials include LCD panels required for the resin film, glass and liquid crystal, and PDP materials are glass substrates, filters, inductors and phosphors. Many Japanese companies such as chemical, fiber, glass and printing companies across Japan have crossed LCD / PDP materials business and their global market share in various materials exceeds 50%. For example, Kuraray's LCD polarizer market share is as high as 80%.
With global LCD TV shipments expected in 2009 exceeded 100 million units expected market size of more than 3 trillion yen (about 28.9 billion US dollars) of LCD materials, the future demand will also be expanded, optimistic about this business opportunity, Japan Related companies have more recent production of LCD materials project.
On the other hand, PDP TV has a market size of between 14 million and 16 million units in 2008-2009, which is not as good as that of LCD TV, regardless of its growth rate or scale. As a result, Japan's FPD materials industry has moved closer to the LCD industry.