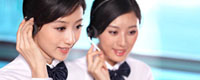 Name: Cassie.Huang
Tel: +86-755-27864416
Fax: +86-755-27864653
Mobile: 15989366182
E-mail: cassie@rxxdisplay.com
Skype: live:cassie_1191
QQ: 2850818618




Company News
>> Sony and Japan Seiko Epson intends to cooperate in LCD business 26th,Jan,2018
At the same time LG and Philips Laoyan were flying at the same time, the industry came the news that Sony has Seiko Epson and Japan to discuss the development and construction of small and medium-sized LCD display plan.
If the deal is reached, Sony will get some business from Epson, the two companies are currently reorganizing its LCD business, previously, Seiko Epson had announced in Japan in September to close the LCD factory and transfer capacity to another factory in the West, the expected Suffered a deeper net loss.
Through the alliance, Epson can reduce production costs, and Sony can benefit from and wider use of amorphous silicon from Epson technology.