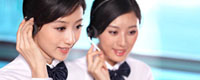 Name: Cassie.Huang
Tel: +86-755-27864416
Fax: +86-755-27864653
Mobile: 15989366182
E-mail: cassie@rxxdisplay.com
Skype: live:cassie_1191
QQ: 2850818618




Company News
>> LG monitor production 15-inch OLED panel 31th,Jan,2018
South Korea's LG Display In the "FPD International 2009" and set up a seminar, "OLED TV to overcome the LCD TV technology development" (October 28, 2009 held) as the keynote speech on the introduction of large-size OLED panel Development trends and future product plans. Staged on stage was Won Kim, vice president of OLED sales and marketing for LG Display. South Korea's LG Electronics will use the panel developed by LG Display to launch a 15-inch OLED TV by the end of 2009.
15-inch product performance parameters, the number of pixels is 1366 × 768, a resolution of 105ppi. Full white brightness of 200cd / m2, the peak brightness of 450cd / m2, black brightness of 0.01cd / m2. The driving assembly uses a low-temperature polycrystalline silicon TFT that is crystallized by a high-temperature process based on "SPC (Solid Phase Crystallization)". Component structure for the bottom of the luminous type. These performance parameters were announced at "IMID 2009" held in South Korea in October 2009 (see Report 2).
Kim also talked about future product plans. It is planned to put more than 20 inches on the market in 2010, more than 30 inches in 2011 and more than 40 inches in 2012. He said: "By 2012, although the 40-inch product prices will be quite high, but still be able to afford."
2016 cost advantage over LCD
Kim points out (1) drive components (TFT), (2) OLED materials and their film forming processes, and (3) packaging processes for the technical problems they are facing with putting large-size OLED panels on the market steadily and at low cost.
(1) In terms of driving components, Kim said it is likely to adopt SPC-based low-temperature polycrystalline silicon or TFTs based on oxide semiconductors such as IGZO (In-Ga-Zn-O) However, TFTs using these two materials need to overcome the problems of large size. For SPC-based low-temperature polycrystalline silicon TFTs, "At present, the 6th-generation glass substrate size is gaining prominence, but it is still necessary to support the 8th-generation glass substrate size to achieve a size reduction of about 40 inches. SPC processing apparatus that performs heat treatment at 700 ° C or higher. " Oxide semiconductors are "one of the candidates for large size." However, "the current unevenness between batches is still large, so the reproducibility is poor."
(2) In terms of OLED materials, Kim said: "We intend to replace fluorescent materials with phosphorescent materials before 2011. At the same time, we will start with the development of mask evaporation technology and promote the research of printing technology." As for (3) packaging, "consider the use of television, it is best solid encapsulation." Through these efforts, compared with the LCD panel, "will strive to make the material cost reached 150% in 2012, the finished product rate reached 70%, in 2016 the material cost reached 70 ~ 80%, the finished product rate reached the same level."
In addition, LG display at the FPD International 2009 exhibition area also exhibited a 15-inch product. Although it has been previously held at the Korean domestic exhibition, it is the first time it has been exhibited in Japan.