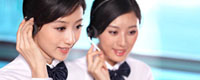 Name: Cassie.Huang
Tel: +86-755-27864416
Fax: +86-755-27864653
Mobile: 15989366182
E-mail: cassie@rxxdisplay.com
Skype: live:cassie_1191
QQ: 2850818618




Company News
>> Promote TFT-LCD Industry Innovation 2009 AUO Technology Forum was successfully held 2nd,Feb,2018
AUO's 2009 Technology Trends Forum, themed "Green Promise for Innovation and Win-win Winning," was successfully held in Suzhou today. It is the first three companies in the world to have AU Optronics, the largest TFT-LCD design and research company in Taiwan, Actively cope with the economic crisis and pledged its commitment to the Chinese market with its successful global experience. Related government departments, industry associations and research institutions, as well as more than 200 customers and business partners from all over the country attended the forum to discuss the latest industry and technology trends, and the current economic crisis in the TFT-LCD industry How to develop in-depth exchanges.
Xiao Hua, Director of the Electronic Information Department of the Ministry of Industry and Information Technology, delivered a keynote speech entitled "Government's Policy on Flat Panel TVs and Public Displays," Mr. Yu Liangxing, Director of Alvarion Marketing Consulting, shared with the participants that "flat panel TVs and large public displays Market trend. " In addition, Mr. Ma Minglong, member of Standing Committee of Suzhou Municipal Committee and Secretary of Work Committee of Suzhou Industrial Park, and Ms. Bai Weimin, Secretary General of China Video Industry Association, made wonderful speeches at the forum. In his speech, Mr. Li Yinyao, Chairman of AUO, thanked the relevant government departments and business partners for their consistent support of AU Optronics and expressed the hope that with AU Optronics' unique concept of green innovation, advanced technology and advanced experience, Business partners continue to cultivate the Chinese market.
AUO Chief Executive Officer and General Manager Mr. Chen Lai-aid said AUO has always been committed to innovative research and development and green development, and continue to lead the trend of technological development and digital lifestyle. Although the current economic crisis has brought great impact and impact on all walks of life, we also see that consumer confidence is gradually recovering. The demand for daily necessities such as televisions, mobile phones and computers still exists. The convening of the forum reflects AUO's long-term commitment to furthering the Chinese market with global successes, entering into clients and business partners, listening to their needs, enhancing communication and cooperation, and working together to jointly promote the development of the TFT-LCD industry.
Speaking AUO tactics and layout in the Chinese market, AUO Peng Shuanglang, executive vice president of global business, said: "As the world's first stationed in mainland China production of small and medium size panel module manufacturing company, AUO in mainland China Layout has been quite long. AUO's factories in Suzhou, Shanghai's Songjiang and Xiamen provide real-time products and services directly to local customers. In the future, AUO will further strengthen its localization and deepen its cooperation with local customers and business partners through To provide the most complete, advanced and environmentally friendly display technologies and products to help consumers in China enjoy a more convenient and colorful digital life. "
In this forum, AUO has also set up two sub-forums on the theme of color TV sets and general-purpose monitors to discuss trends in the industry, introducing advanced green innovation technologies and displaying colorful and innovative products.
At the color TV theme forum, Dr. Ke Furen, the general manager of AU Optronics and TV Display Unit, introduced the trend of AUO TV products and the blueprint of technology development. Dr. Liu Bingde, vice president of AU Optronics Technology Headquarters, shared with AUEP Advanced technology development trend. In addition, relevant experts and invited guests from the industry made wonderful speeches on such topics as "LED Trends", "The Unity of Cross-Strait Display Standards" and "Growth and Development Trend of Flat Panel TVs from Retail Sales" And in-depth discussions. And AUO showcased a full range of "real technology" LCD TV screen is caused by the great interest and concern of participants.
AUO's "True Technology" LCD TV screen is prioritized for the Chinese market and includes four technologies, "True Vision," "True Contrast," "True Frequency," and "True Energy Saving." Bringing a very realistic image quality and immersive shocking visual enjoyment. Among them, the patented "true contrast" AMVA3 technology, static contrast up to 8000: 1, substantially exceed the industry's mainstream specifications. "True multiplier" 240Hz fast response time technology, can deliver 240 times per second signal, not only the picture is more fluid, response time is faster, further strengthening AUO's continuous innovation in response time technical capabilities. In order to proactively implement the Green Promise, AUO has also launched the "True Energy Saving" series, which includes various energy saving and LED green panels in different sizes, such as lightweight and slim, energy-saving "eco-friendly" LCD screen, the thickness of only 7.8 mm "true energy" ultra-thin King LED-backlit 32-inch LCD TV screen and 9.8 mm "true energy" LED-backlit 46-inch ultra-thin LCD TV screen.
In the common monitor theme sub-forum, from AU Optronics executives and R & D experts also elaborated the industrial application displays, large public displays market and development trends, but also to the new man-machine interface as the theme for the current Fire touch technology, introduced the panel interactive technology development overview, and industrial application panel energy-saving trends were analyzed. AUO's in-line multi-touch screen technology demonstrated on this sub-forum has also become a major highlight.
AUO's world-leading embedded multi-touch technology, including 4.3 "to 15" small to medium size applications, is one of the few mass production technologies in the world that can directly integrate touch functions into the front panel process. Because there is no need to add a layer of touch glass to do multi-touch function, so the panel penetration rate higher optical properties are better, while anti-glare effect is also very significant, not only in the sun Still clearly legible, but also to maintain good color saturation.
In this forum, AUO also demonstrated the 3-D stereoscopic display technology through two products. One is a 17-inch display without wearing glasses, and the other is a 24-inch 3D display with glasses for viewing. Both of them overcome the dizziness that often occurs in ordinary products, which manifests the people-oriented and green Healthy design concept, to bring consumers more enjoyable visual enjoyment.
As the leading TFT-LCD manufacturer in the world, AUO has been adhering to the innovative concept and green commitment, and has taken the lead in the technological innovation, environmental protection and energy saving, and the layout of the Chinese mainland market. Close to local customers, listen to and understand their specific needs, with successful global experience in the Chinese market, leading the vast number of consumers in China to enjoy the new digital lifestyle more reflects the AU Optronics in the Chinese market confidence and long-term commitment.