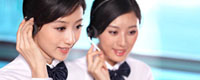 Name: Cassie.Huang
Tel: +86-755-27864416
Fax: +86-755-27864653
Mobile: 15989366182
E-mail: cassie@rxxdisplay.com
Skype: live:cassie_1191
QQ: 2850818618




Company News
>> 2021 OLED panel market will reach 75 billion US dollars 12th,March,2018
OLEDs and flexible OLEDs, which can be attached thinly like paper, are expected to become the main OLED products for TVs. The technology for dissolving ink-jet printing process that can reduce the production cost of large-size OLED panels is nearing the commercialization stage.
UBI Research, a South Korean market research agency, revealed in the OLED Korea Forum 2017 that the future OLEDs will have higher performance and more design, and the input cost is expected to gradually decrease.
Yoon Young-jung, president of LG Display, believes that in the future, large-size OLED TVs can evolve into ultra-thin wallpapers and flexible forms attached to the walls. The OLED panel is thinner than the LCD, and has the advantage of being able to exhibit free forms such as bending or winding. In 2017, Lejin Monitor began producing ultra-thin panels such as wallpaper.
In the global high-end TV market, the proportion of OLED TVs is rapidly rising. In the long run, it is expected to leapfrog high-end markets, enter the middle-class market, and become popular.
Yin Yirong pointed out that Sony will also join the OLED TV camp in 2017, and more TV manufacturers will launch OLED products. In 2016, shipments of large-size OLED panels will total 900,000 units, which is expected to grow to 1.7 million to 1.9 million units in 2017.
Yin Yirong also said that Le Jinyin will prepare about 80-inch 8K resolution panels by 2020. The panel price will decrease with the expansion of production capacity. The long-term goal is to allow high-resolution OLED panels to supply lower prices than LCD panels. Currently, the company is continuing to develop technologies and expand production capacity.
One of the core technologies to reduce the production cost of OLED panels is inkjet printing technology. Large manufacturers such as UDC (Universal Display Corporation), Merck, and DuPont have already started to develop solution-form OLED materials. In addition to researching the basic properties of OLED materials, such as their useful life, efficiency, color performance, and low power consumption, the industry is speeding up research and development to produce the most suitable materials for inkjet printing. Currently Korea and the mainland are actively discussing the introduction of OLED inkjet printing technology.
UDC developed Novel BY Display Architecture inkjet printing technology. The general OLED is red (R), green (G), blue (B) three primary colors side by side, but UDC structure is the yellow (Y) and blue pixels side by side, yellow pixels and then red and green pixels in the color filter sheet.
Mike Hack, vice president of UDC, stated that the color reproduction of the product is quite high. It can be applied to large-size and small-to-medium size OLED panels, and the pattern evaporation process can be reduced to two stages, effectively reducing costs.
Major panel makers continue to study how to use the advantages of high degree of freedom in OLED design. The global OLED market is expected to grow rapidly in 2021.
According to UBI Research data, the size of the OLED panel market in 2021 will grow to 1.7 billion units in terms of unit shipments and approximately US$75 billion in revenue. The market share of Korean panel makers accounted for about 80%, while that of the mainland panel makers accounted for 10 to 15%.
In terms of OLED capacity investment in 2017, South Korea's monthly revenue was 146,000 units and the mainland's 105,000 units. The scale of investment in the mainland was 1.8 times that of 2016. The 6th generation production line accounted for about 81% of the total capacity investment, which was 235K units, which was a 2X increase from 2016.