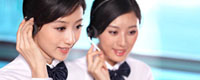 Name: Cassie.Huang
Tel: +86-755-27864416
Fax: +86-755-27864653
Mobile: 15989366182
E-mail: cassie@rxxdisplay.com
Skype: live:cassie_1191
QQ: 2850818618




Company News
>> New Japan Wireless Introduces LCD Control Driver IC Series NJU6541A/B 17th,March,2018
After the New Japan Radio (NJR) has developed the NJU6543 IC, which can display up to 512-segment bits, it has recently released a 480-segment (4COM×120SEG) LCD control and drive IC series featuring NJU6543 features--NJU6541A and NJU6541B. .
The NJU6541A/B includes a built-in LCD control driver, an electronic potentiometer for contrast control, a power reactivation circuit, and a key scan circuit. The package uses QFP144 (20.0×20.0×1.70mm) to achieve a single chip that can display up to 480 segments (4COM×120SEG). In addition, the use of the product can be arbitrarily selected static, 1/2, 1/3, 1/4 low duty cycle to drive the LCD LCD screen, and increase the wide viewing angle high resolution display effect required for the information panel.
Although the NJU6541A/B has 32-bit lower display capability than the NJU6543, the design burden is reduced by the built-in key circuit scanning circuit (5 output × 6 input = 30Key) and the addition of the I2C bus interface model (NJU6541A). The operating temperature meets the range of -40 to +105°C required for car audio. Multi-segment satisfies the NJU6541A/B for high-resolution display requirements and is best suited for driving LCD panels with information panels.
New Japan Wireless's NJU6541A/B has begun sampling and is expected to post films in March 2009. The monthly production of the NJU6541A/B totals 20,000.