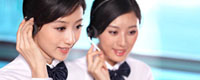 Name: Cassie.Huang
Tel: +86-755-27864416
Fax: +86-755-27864653
Mobile: 15989366182
E-mail: cassie@rxxdisplay.com
Skype: live:cassie_1191
QQ: 2850818618




Since the third quarter of 2017, Korean flat panel display (FPD) manufacturers have been evaluating the promotion strategy of AMOLED panels. By the end of January 2018, after two years of capacity growth, FPD manufacturers in South Korea formally postponed major production plans due to the fact that demand was far lower than expected leading to low plant utilization. However, at the same time, Chinese manufacturers are still expanding their production lines.
Charles Annis, senior director of IHS Markit, said that after the double growth of AMOLED panels for mobile devices over the past two years, it is not surprising that Korean manufacturers are slowing their investment at the moment, but such a large movement freezes all new investment and Large-scale production planning means that continuous production will exceed market demand in large quantities.
While Korean panel makers carefully observed the AMOLED display market and carefully adjusted production capacity, Chinese FPD manufacturers are still actively promoting the construction of new AMOLED production lines under the financial support of the Chinese government. IHS Markit pointed out that in 2016, China's AMOLED production capacity will be 228,000 square meters, by 2020 it will grow to 8.3 million square meters, and the compound annual growth rate will reach 145%.
Charles Annis further pointed out that if the price of AMOLED panel will be lower, it will have advantages over the performance and appearance of the Liquid Crystal Display (LCD). On the application side, the foldable display will also pull up the average panel size. Both of these trends will increase the demand for future AMOLED panels. However, it will be difficult to achieve in the short term.
As the performance and specifications of displays and smart phones continue to be optimized, the replacement cycle of users is also gradually extended, and the growth trend of smart phone sales may gradually slow down. On the other hand, due to high prices, the development of high-end flexible AMOLED panels has been limited. At present, the price of AMOLED displays is about twice that of LCD monitors. Next, what will drive a new wave of South Korean investment, and how Chinese manufacturers can fill remaining capacity, will affect the future growth rate of AMOLED displays.