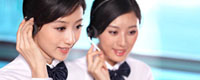 Name: Cassie.Huang
Tel: +86-755-27864416
Fax: +86-755-27864653
Mobile: 15989366182
E-mail: cassie@rxxdisplay.com
Skype: live:cassie_1191
QQ: 2850818618




Company News
>> In addition to OLED TV 2018 8K TV or will erupt 21th,March,2018
In the past two years, OLED TVs, led by brands such as Skyworth and Sony, have ushered in a period of rapid growth, which has led many high-end users to look to OLED TVs. However, in addition to OLED TVs, this year's color TV market has also attracted a lot of attention, it is 8K TV. Sharp, Konka and other mainstream TV manufacturers have all played 8K banner.
Among them, Sharp used the details of Qingming Shanghe Diagram to present the sharpness of the 8K LCD TV. It was composed of 8 pieces of 104-inch 8K ultra-high-definition display screens, bringing a visual experience quite shocking. Konka is the first to introduce a 75-inch 8K split LCD TV. It hopes that through its high-end strategy, its operating revenue in 2018 will further expand to 45 billion yuan on the basis of last year's 30 billion yuan.
The upstream panel has matured and created conditions. The 10.5-generation line of BOE Hefei started production last year and will be able to produce 8K 65-inch and 75-inch LCD TV panels this year. Foxconn Guangzhou's 10.5-generation 8K panel plant will also be put into production in 2019.
The 8K resolution reaches 7680x4320, which is 16 times the 4K resolution. Content is a key factor in the proliferation of 8K. As a leader in the 8K era, Sharp has been actively deploying the new 8K ecology in recent years. Sharp's 10.5-generation 8K panel production line has been started. In terms of recording, Sharp also developed a new 8K camera with many media in terms of content. Strategic cooperation to open 8K channels.
Chen Zhenguo, vice president of Foxconn Technology Group, believes that 8K cameras and televisions will be the first to be applied in cultural relic protection, modern agriculture and other fields. In the future, there will be more extensive applications in medical and intelligent manufacturing.