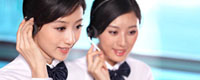 Name: Cassie.Huang
Tel: +86-755-27864416
Fax: +86-755-27864653
Mobile: 15989366182
E-mail: cassie@rxxdisplay.com
Skype: live:cassie_1191
QQ: 2850818618




Company News
>> Three Mainstream LCD Panel Applications Market First to Show Growth in June 26th,March,2018
According to iSuppli Corp., shipments of large-size thin-film transistor-liquid crystal display (TFT-LCD) panels reached 47.1 million units in June, up 9% from May and 26.2% from the same period last year. This is the first year-on-year year-on-year growth in shipments of three panel applications - televisions, laptops and desktop monitors.
The growth came mainly from TVs and laptops, which were 9.2% and 9.1%, respectively. Followed by the display panel is 8.3%. As the major manufacturers began preparing for the upcoming sales season, that is, autumn school and Christmas, according to previous data, panel shipments will continue to rise in July. However, due to various reasons, such as the continuous shortage of glass, and the recent earthquake in Japan damaged Corning's glass melting furnace, it affected the supply of glass to Sharp's 8th-generation factory, which may result in tight panel supply.
In the second quarter of 2009, global shipments of large-size LCD panels rose by 43% from the first quarter and 12% from the second quarter of 2008. This should be attributed to the improving global economy, strong demand in the Chinese market, the introduction of new models, the transition to 16:9 panels, and the increasing use of LED backlighting technologies. The surge in demand and tight supply led to the price increase of mainstream large-size LCD panels from 20% to 25% from March to June.
Rising prices have freed panel suppliers of losses due to lower-than-cost costs, causing these panels to turn a profit at the end of the second quarter. Panel demand remained strong in July. Buyers believe that panel prices will rise significantly in July, so they are willing to buy additional panels in bulk. Demand for panels remained strong in August for many reasons, including preparation for the Christmas sales season and fears that glass shortages will cause further contraction in panel supply. Demand for panels will continue to be strong in the third quarter of 2009.
Figure 6 shows iSuppli's monthly shipment forecast for large-size TFT-LCD panels from January 2009 to June 2009.
Display panel shipments reached 17.8 million units in June, an increase of 8.3% over May, exceeding expectations, and an increase of 8.5% from June 2008. The rise in panel prices in July and August will prompt buyers to accumulate more inventory.
However, the shortage of glass has limited production capacity, and it is estimated that shipments of display panels will only increase modestly in the coming months. Moreover, there are signs that buyers' panel inventory has started to increase.