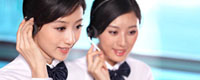 Name: Cassie.Huang
Tel: +86-755-27864416
Fax: +86-755-27864653
Mobile: 15989366182
E-mail: cassie@rxxdisplay.com
Skype: live:cassie_1191
QQ: 2850818618




Company News
>> What is LG Display's confidence that "OLED has become a general trend"? 18th,Apr,2018
From April 9th ​​to 11th, the 6th China Electronics Information Expo (CITE2018) was held in Shenzhen. On April 11-13, China InfoComm China 2018 was held in Beijing. This exhibition, South, North and South, is a grand event for electronic information, especially in the audio-visual field. It has attracted a large number of panel, TV machine, and audio-visual solution companies. Many manufacturers will focus on OLED products: Skyworth, Konka and Changhong both displayed OLED TVs as their flagship products; Hikvision, KTC demonstrated the latest curved OLED commercial solutions; panel company LG Display unveiled several innovative OLED products, and even Huaxing Optoelectronics Put a 31-inch OLED display. It is no wonder that at the "2018 China Smart TV Industry Entrepreneur Summit" held on the 10th in the same period with CITE2018, Li Tinghan, LG Display's vice president of global marketing, said with confidence: "OLED, the trend has become."
Consumer upgrade assistance
"OLED, the trend has become" is the theme of Li Tinghan's CITE keynote speech. He cited the data from global data company IHS. He said that in the "high-end TV" with global pricing above $2,500, the proportion of 2016 OLED TVs is 35. %, For the first time in 2017, the number of high-end LCD TVs exceeded 51.3%, and IHS predicts that the proportion of OLED TVs in the high-end TV market will increase to 70.7% in 2018, further discouraging LCD TVs.
Li Tinghan's intuitive experience is also consistent with the above data. In an interview with a reporter from China Electronics News, he said: "Since the second half of last year, I visited many developed countries in North America, Europe, and Japan, and have been observing many developing countries including China. I feel deeply that OLEDs are now Become a global audiovisual trend."
With the gradual intensification of China's consumption upgrade and supply-side reforms, more and more consumer groups are pursuing quality of life. They want personalized services and innovative experiences. They are willing to spend more money to purchase high value-added products. OLED is no doubt Meet this need.
"In 40 years of China's reform and opening up, TVs have been localized for more than 30 years, televisions have long been popularized. Most families do not lack TV sets, and people buy TV sets no longer remain in the "add a big piece to their homes". TV is for pursuing a better audio and video entertainment experience and improving the quality of family life.Therefore, what has recently appeared in the market is the sales of high-end products. For example, OLED TVs, with their self-luminous advanced technology, are slim and paper-like. The appearance, carrying intelligent interactive control and many other advantages, favored by consumers." Deputy Secretary-General of China Electronics Industry Association and OLED branch secretary-general Peng Jianfeng told the "China Electronics News" reporter.
At the just-concluded "2018 Sony EXPO Sony Charm Rewards" event, Takahashi Yang, Chairman and CEO of Sony China, stated that in 2017, Sony seized the market opportunities in the 4K, large-size and other sectors to increase the market opportunity and lead the upgrade of the consumer structure. Finally, in the high-end, large-screen TV sector, the market share has successfully risen. In 2017, Sony introduced the iconic OLED TV A1 and gained both good reputation and sales. Data shows that in 2017, Sony's share of the OLED TV market in the price segment above $2,500 was 36.9%. Takahashi Yang said that Sony set 2017 as the first year of OLED, and it will further increase its volume in 2018 to continue to expand its OLED market share. In China, Sony has just launched the new A8F OLED TV with a different design and style from A1. It is hoped that the two will attack in the form of "combination boxing" to meet the diversified, personalized, and quality consumer demand that has emerged during the upgrade process in China.
OLED TVs have provided the impetus for the color TV industry to transform to high value-added, and also expanded the market for itself. Data show that in 2017, the global sales of OLED TVs were 1.7 million units. The analysis agency and LGD are very optimistic about the OLED TV market. IHS predicts that OLED TVs will grow at an annual rate of more than 100% from 2018 onwards. Li Tinghan predicts that global sales of OLED TVs will reach 2.8 million units in 2018 and 6.5 million units by 2020.
In addition, according to "China Electronics News" reporter understands that 2018 OLED camp will usher in two new members, of which Hisense will start selling OLED TVs from the second half of this year, which means that there will be 15 OLED TV brands worldwide. With the influence of Hisense in the global market, especially in Australia and China, it will greatly increase the share of OLED TVs.
Ove Cloud Network data shows that in 2017 China's OLED TV sales doubled to 120,000 units. Combined with the data of distribution channels, it is predicted that the total sales volume of OLED TVs in China in 2018 will reach 250,000 to 300,000 units. Li Tinghan pointed out that China is the market with the highest acceptance of new products and technologies. As the income level of residents increases, the middle class will grow rapidly and the demand for high-end products will also increase rapidly. The demand for high-end television will increase. Promote the rapid development of OLED TV in China. According to reports, since 2018, Skyworth, Philips and other mainstream TV companies have been ensuring the supply of OLED panels, and OLED TVs have received a lot of calls.
In the face of the urgent demand of downstream terminal brands for OLED panels, LGD is increasing investment in OLEDs and building new production lines. At the same time, through continuous technological breakthroughs, various types of OLED panels have been introduced to provide terminal manufacturers with differentiated value. With the improvement of the process route and the adjustment of equipment, the yield of OLED panels has been increased to over 90%, and the output has been greatly improved.
LGD continues to increase its investment in OLEDs. In the past two years, LGD has invested in two 8.5-generation OLED panel production lines, one in Guangzhou, China and one in Paju, South Korea. It is expected that the two production lines will mainly produce 77-inch, 65-inch, and 55-inch panels, which will be under 2019. Six months to achieve mass production. Li Tinghan said that LG Display's vision is to build itself into an OLED-based solution provider. By 2020, the OLED business sales share is expected to exceed 40%.
While the output of OLED panels has increased, LGD has also continuously broken through technical challenges and launched diversified products to better meet the differentiated needs of terminal manufacturers. Currently, the TV panel presents two major trends. One is the migration of the mainstream large size to 65 inches, and the other is the expansion of the resolution from 4K to 8K. LGD followed the latest developments in the market and displayed a 65-inch OLED TV and an 88-inch 8K OLED TV on the CITE2018. Obviously, OLED is also receiving attention from the commercial market. OLED splicing screens, 77-inch HUD Wall Paper OLED TVs, and OLED columns composed of six 77-inch flexible OLED panels are LGD's to provide more downstream terminal manufacturers. solution. Li Tinghan's so-called "big trend has become," both confidence in the market, but also from the confidence in products and technology