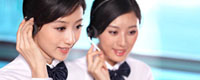 Name: Cassie.Huang
Tel: +86-755-27864416
Fax: +86-755-27864653
Mobile: 15989366182
E-mail: cassie@rxxdisplay.com
Skype: live:cassie_1191
QQ: 2850818618




Company News
>> Long letter technology hard-screen OLED display module has been shipped in batches will speed up the layout of flexible OLED display module 22th,May,2018
Long letter technology on May 18 in the interactive platform, said the company's core subsidiary Dongguan Depute Electronics has a hard-screen OLED display module bulk shipments, in the flexible OLED display module, the company will work with end customers to speed up the layout.
It is understood that Dongguan De Pute's "small and medium-sized lightweight touch display integration project" has a high starting point, excellent equipment and strong compatibility, obvious technological advancement advantages, not only can produce TFT small and medium size touch display module, but also can produce AMOLED's small and medium-sized touch display module meets high-end customers' different product requirements from multiple perspectives, creating the conditions for the company to maintain its dominant position in the industry for a long time.
On March 28 this year, Changxin Technology, when responding to investor questions by the Shenzhen Stock Exchange Interactive Platform, stated that Dongguan Deputt Electronics, the company's subsidiary, is the only supplier of the comprehensive screen module for Xiaomi MIX 2S and P20.