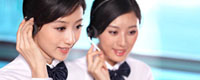 Name: Cassie.Huang
Tel: +86-755-27864416
Fax: +86-755-27864653
Mobile: 15989366182
E-mail: cassie@rxxdisplay.com
Skype: live:cassie_1191
QQ: 2850818618




Company News
>> Variety of products launched in the world Tianma stunning debut SID 2018 23th,May,2018
The 2018 SID was opened at the Los Angeles Convention and Exhibition Center on May 22 at 10:00 am local time. As a leader in small and medium-sized display areas, the Tianma showcased display solutions for the five themes of industrial control, medical care, smart home, automotive and new technologies. A number of global launches of technology products have brought many surprises to everyone.
Smart Terminal Display Solution
With the advent of a full screen era, more and more physical buttons have been replaced by touch screen interactions. Force Touch technology expands the interactive dimension of the touch screen from 2D to 3D, which greatly enriches the user's interactive experience and has great potential in the full screen era.
Last year, SID exhibited the launch of the world's first TED Plus® LTPS TFT-LCD product based on embedded strain sensors, which has attracted wide attention from the industry. At the SID show, Tianma introduced a full range of in-line pressure sensing touch screen products including LTPS TFT-LCD, rigid OLED, curved OLED, and flexible foldable OLED based on TED Plus® technology. The in-cell pressure sensing touch screen is the first in the industry and demonstrates Tianma's world-leading technology development capabilities in integrated touch technology.
Variety of products launched in the world Tianma stunning debut SID 2018
Flexible products have always been a hot topic in the display field in recent years. At this time, Tianma exhibited a variety of flexible products, including a 5.99-inch 18:9 outer curved folding screen, with the screen's top, left, and right being 0.85. The narrow frame of mm, with double-row COF design, with ultra-high screen ratio, bending radius of 5 mm, bending angle of 0 to 180, module thickness of less than 0.25 mm, resolution of 2160× 1080, resolution reaches true FHD 403 PPI.
The screen can greatly reduce the volume and weight of the smart terminal device, and can be more conveniently carried by bending in the case of a constant screen display size. In addition, the ultimate flexibility will not only make the display device more resistant to fall, but will also give full play to the inherent advantages of AMOLED display - have more use scenarios, but also provide more choices for terminal applications such as smart phones, reflecting the Tianma in Continuous leadership on flexible display products.
Variety of products launched in the world Tianma stunning debut SID 2018
It is worth mentioning that this time, Tianma introduced the world's first small-size LCD using the new Mini LED technology to achieve multi-zone local dimming HDR display for LCD, the resolution is 500PPI, the brightness is up to more than 1000nits, dynamic contrast exceeds 20000:1. The display uses DCI-P3 color gamut, can also achieve 10bit input and output, significantly improve the contrast of ordinary LCD, achieve high dynamic range display, highly restore the real world of color and brightness. This is a new manifestation of LTPS LCD's ability to compete with OLED in display performance, and at the same time, it has created a new era of display.