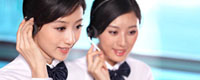 Name: Cassie.Huang
Tel: +86-755-27864416
Fax: +86-755-27864653
Mobile: 15989366182
E-mail: cassie@rxxdisplay.com
Skype: live:cassie_1191
QQ: 2850818618




Company News
>> Hehui Optoelectronics flexible AMOLED mass production shipment will break the monopoly of foreign technology 10th,July,2018
On July 2, the production equipment of the 6th generation AMOLED display project of Hehui Optoelectronics was moved into the purification room, marking that the largest industrial clean room in Shanghai had been initially completed, and the project entered the stage of installation and commissioning of production equipment. At the new product launch conference of Hehui Optoelectronics flexible AMOLED, Hehui Optoelectronics officially announced the first phase of the production line flexible products (fixed surfaces) to achieve mass production and shipment. In addition, Hehui Optoelectronics has launched a 5.5-inch full HD fixed-surface flexible screen product for mass production shipments.
As the first domestic enterprise to start mass production of AMOLED mobile phone display screens, Hehui Optoelectronics officially started construction of the 6th generation AMOLED display project on December 9, 2016. The total construction area of ​​the main plant built by the project is about 390,000 m2, of which the clean plant area is about 320,000 m2, which is the largest purification plant in Shanghai's history. The total investment of the project is 27.278 billion yuan, the production capacity is 30,000 pieces of glass substrate per month (1500mm × 1850mm), the product is 1 to 15 inches of display screen and module (partial flexibility), taking into account the flexible and hard board production technology The project is scheduled to be trial-produced in early 2019.
On the same day, Hehui Optoelectronics also held a new AMOLED product launch conference, officially announcing the first phase of production line flexible products (fixed curved surface) OLED to achieve mass production and shipment. The product is a 5.5-inch full HD fixed-surface flexible screen product, and the color is 1.5 times the color performance of the LCD; the display has better performance in ball strength, falling, vibration and other mechanical strength tests. The overall level has reached the international advanced level.
From the current technological developments, flexible panels can be divided into three realms: "bendable", "foldable" and "curlable". Chen Zhihong, deputy general manager of Shanghai Hehui Optoelectronics Co., Ltd. said that it is expected to achieve mass production of collapsible technology in 2019 and mass production in 2022.
In recent years, the demand for AMOLED displays in the global terminal market has grown rapidly, and the AMOLED industry has developed rapidly. International and domestic panel manufacturers have increased their investment. According to IHS forecast, the future growth rate of OLED market will be as high as 38%. It is estimated that the global OLED production capacity will reach 1.7 billion pieces in 2021, with a market size of 75 billion US dollars.
Experts said that the full HD fixed-surface flexible AMOLED mobile phone screen is mass-produced and shipped in Shanghai, realizing the domestic mass production of flexible display screens, which is important for further improving the technical level of Shanghai's new display industry cluster and promoting the development of new display industries in the future. significance. The reporter was informed that in order to comply with the market development, Hehui Optoelectronics will focus on the development of AMOLED flexible screen, high-resolution AMOLED display, comprehensive screen and vehicle display projects, followed by a number of flexible screens to be released in the next year, in higher technology. Difficult OLED folding screens and curling screens are also working intensively with terminal manufacturers to achieve mass production applications as soon as possible.
Hefei Optoelectronics' 6th generation AMOLED production line project is one of the major advanced manufacturing projects in Shanghai with an investment of more than 20 billion yuan. It is also a major industrial project in Shanghai during the 13th Five-Year Plan period and a major strategic emerging industry project in Shanghai. The major engineering construction projects in Shanghai from 2016 to 2018 make it a high-end display industry chain in China and become an important "business card" for Shanghai's new generation information technology industry and high-end manufacturing industry!