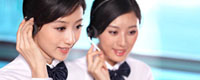 Name: Cassie.Huang
Tel: +86-755-27864416
Fax: +86-755-27864653
Mobile: 15989366182
E-mail: cassie@rxxdisplay.com
Skype: live:cassie_1191
QQ: 2850818618




Company News
>> LCD is weak, small-size OLED panel is exploding 6th,Sep,2018
In the first quarter of this year, the small and medium-sized panel market was slightly larger than US$11.4 billion, down 9.8% from US$12.7 billion in the same period of last year, mainly due to the decline in demand in the smart market. According to the latest data from IHS Markit, the smartphone market has entered a stagnation period, the sales volume of LCD panels has declined, and the OLED market is in a good position.
Nowadays, whether it is a TV or a mobile phone, various display devices are beginning to popularize the full screen, so the demand for OLED panels has also increased. It is predicted that the global small and medium-sized AMOLED panel production capacity will reach 13.6 million square meters in 2018, up 51% from last year. It is expected that the production capacity will climb to 27.3 million square meters in 2021, which is multiplier compared with 2018.
In the small-size panel market, compared with the same period last year, LCD panel sales fell 22% year-on-year to 6.9 billion US dollars, while OLED sales rose 20.3% to 4.3 billion US dollars; LCD monitor market share from a year ago 69.6% fell to 60.1% this year, while the market share of OLED displays increased from 28.5% last year to 38% this year.