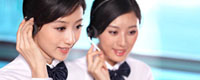 Name: Cassie.Huang
Tel: +86-755-27864416
Fax: +86-755-27864653
Mobile: 15989366182
E-mail: cassie@rxxdisplay.com
Skype: live:cassie_1191
QQ: 2850818618




Company News
>> BOE A: LCD and AMOLED production lines are operating steadily 14th,Sep,2018
Recently, BOE said in an institutional survey that the company's existing production lines are now operating steadily. By flexibly adjusting production line layout, adjusting product structure, increasing sales of high value-added products, and actively responding to external demand. At the same time, the company has deepened its market segmentation and achieved a steady increase in the market share of various segments.
According to the disclosure, BOE's 6th generation and below production lines will gradually shift to display products such as vehicle, industrial control, electronic label, medical and other display segments and sensors; Chongqing, Hefei and Beijing three 8.5 generation lines will be flexible according to market demand. Adjust the product structure, corresponding to LCD mobile phone display, laptop display, display display and 32-65-inch TV display; Fuzhou 8.5 generation line will apply cutting technology, focusing on 43-inch TV display and partial surface product.
The Hefei 10.5 generation line has a designed production capacity of 120,000 sheets/month and has been mass-produced in March. This layout will further compensate for the shortage of large-size products of 65 inches and above, further enhancing the company's market share and comprehensive competitiveness in large-size TV LCD panels. It is expected to be fully produced in the first half of 2019.
In terms of OLED, the 6th generation flexible AMOLED production line in Chengdu was lighted and put into production on May 11, 2017. It was mass-produced and shipped in October. The production line uses ultra-high resolution, ultra-thin panels, ultra-narrow bezels, etc. Advanced technology, the product is mainly targeted at new high-end touch flexible display for smart phones and wearable devices.
The 6th generation flexible AMOLED production line in Mianyang is currently under construction and is expected to be put into operation in 2019. The company announced that it will invest in Chongqing's sixth-generation flexible AMOLED production line project in Chongqing, which has the same total investment as the Chengdu 6th generation line and the Mianyang 6th generation line, with a total investment of 46.5 billion yuan and the same design capacity, both of which are 48K/month. As these three flexible AMOLED production lines are put into production, it will be able to establish the company's competitive position in the flexible AMOLED field, which will enable the company to provide high-quality flexible AMOELD screens for global brand manufacturers.
BOE said that with the gradual enrichment of the company's production capacity, the synergy effect of the multi-product line will be exerted in the future, and the flexibility of product structure will be maintained within the group, and the product categories of each production line will tend to be concentrated and standardized.
In recent years, BOE has been adhering to the road of independent research and development. By the end of March, the OLED comprehensive yield rate has reached more than 65%, and it is expected to reach more than 70% next year.
But BOE has not been successful. In the 1980s, tube technology was replaced by semiconductor technology, and BOE was on the verge of bankruptcy. In 1993, its employees raised funds to establish the current Beijing Oriental Electronics Group Co., Ltd. Starting from the foundry of electronic components, through the country's own support and its own efforts, it finally elucidated its own screen production technology. In the first quarter of 2018, it achieved the world's first global LCD TV panel shipments.
I have to admit that there is still a certain gap between BOE and Samsung. It is reported that Samsung's product yield rate is 80%, and there is still room for improvement. BOE and Samsung also maintain the relationship of competition and cooperation, and have deep cooperation with Samsung in all aspects, in order to maximize the interests of both parties. Although the production of panel production in China started late, it is not inferior to the big companies in South Korea in terms of technology level, but there is still a certain gap between the yield and Samsung and other companies. After the technical problems have been overcome, the improvement of the yield is only a matter of time.