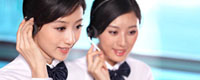 Name: Cassie.Huang
Tel: +86-755-27864416
Fax: +86-755-27864653
Mobile: 15989366182
E-mail: cassie@rxxdisplay.com
Skype: live:cassie_1191
QQ: 2850818618




Company News
>> Flexible AMOLED will be the mainstream of high-end display panels in the future 13th,Dec,2018
IHS said that flexible active organic light-emitting diodes (AMOLEDs) accounted for the overall market share of AMOLED panel shipments, from 2% in 2014 to 20% in 2015, reaching 57 million. At present, the Korean factory is in a leading position. AUO (2409) has already shipped AMOLED products, and Innolux has also stepped up research and development, and will not be absent in the future.
IHS expects that the market share of flexible AMOLEDs will account for 40% of the total AMOLED in 2020. Fixed AMOLED panels grew 30% in 2015 to 233 million. Looking into the future, fixed AMOLED is still the mainstream, but the flexible AMOLED growth rate will be larger. It is estimated that this year's production capacity can reach 1.5 million square meters, accounting for 24% of the overall AMOLED area capacity.
The demand for flexible AMOLEDs is booming, mainly because the Samsung smart phones Galaxy Edge and Apple Apple Watch both use flexible AMOLED panels, attracting panel manufacturers to invest in related technologies, including various types of flexible AMOLEDs that can be folded or curled.
As Samsung's fixed AMOLED panels continue to reduce costs and price wars with low-temperature polysilicon (LTPS) panels, Samsung has taken a leading position in fixed AMOLED panels, and other panel makers have avoided competition with Samsung to develop flexible AMOLED panels are the mainstay.
AUO said that AUO's advanced technology in the display will not be absent. Among them, the six-generation LTPS plant plans to mass-produce in the second half of the year. AUO has 4.5 generations of LTPS experience, plus customers and product portfolios are good, so optimistic about LTPS prospects.
In terms of AMOLED, AUO said that AMOLED is the main quality high-quality boutique route. For example, with the customer's launch of the round-shaped AMOLED smart watch, the company's AMOLED shipments continue to increase. Due to the large fixed investment of OLED, AUO will High-end products such as wearable devices and virtual reality (VR) are the main products.
In terms of flexible AMOLED, AUO said that the current technology is mature, will continue to pay attention to the market, and at the right time to amplify AUO's technological leadership in flexible AMOLED. As for Innolux, we are also developing advanced technologies such as AMOLED, which will not be absent from the AMOLED market.
In addition, Innolux's six-generation LTPS plant is also planned to be mass-produced in the first quarter.