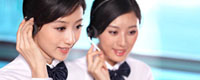 Name: Cassie.Huang
Tel: +86-755-27864416
Fax: +86-755-27864653
Mobile: 15989366182
E-mail: cassie@rxxdisplay.com
Skype: live:cassie_1191
QQ: 2850818618




Company News
>> The LCD business is behind the surprise of Samsung Surprise 19th,Dec,2018
According to ET News, Samsung Electronics initially estimated its operating profit in the first quarter to be 6.6 trillion won (about $5.77 billion). The market expects that the Semiconductor Business Unit of the Semiconductor Business and Device Solutions (DS) Division will The profit of 2.5 trillion won to 2.6 trillion won, compared with 2.9 trillion won in the first quarter of 2015, fell by more than 10 percentage points, still the second highest profit record in the calendar year.
As for other players, there are signs of recession. SK Hynix's first quarter operating profit is estimated at 500 billion won, a 60% decrease from the same period of the previous year. Micron is the 11th quarter due to the fall in DRAM prices. After the profit, there was a loss in the quarter. At the end of March, Micron released a net loss of US$1 million in the second quarter of fiscal 2016 (December 2015 to February 2016).
According to Jin Jingmin, a researcher at Korea's Daxin Securities, Samsung's DRAM shipments in the first quarter will be slightly lower than the original target, because the focus of the factory operation is to increase the profit rate rather than the shipment volume. The price of DRAM will continue to decline. On the one hand, Micron will increase its shipments in order to turn a profit. In addition, if SK hynix and Samsung Electronics both increase the proportion of DRAM chip shipments of the latest process, DRAM prices will be harder to pick up.
Although Samsung Electronics has a surplus, it is understood that the display business of the DS department is expected to have suffered losses as expected in the market. The estimated operating loss is between 2,000 and 300 billion won. In addition, Samsung Display (Samsung Display) also suffered losses after two years after the first deficit in the first quarter of 2014. In the first quarter of 2016, the organic light-emitting diode (OLED) panel business for smartphones contributed a business benefit of 4,000-500 billion won. However, the LCD business experienced the most serious loss in history, resulting in a decline in overall performance.