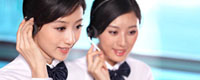 Name: Cassie.Huang
Tel: +86-755-27864416
Fax: +86-755-27864653
Mobile: 15989366182
E-mail: cassie@rxxdisplay.com
Skype: live:cassie_1191
QQ: 2850818618




Company News
>> BOE AMOLED flexible panel is closely related to Samsung 21th,Jan,2019
Flexible panels are now considered the secret weapon of the next generation of panel makers. Under this circumstance, who can launch the product first and effectively occupy the market share, there is an opportunity to be one of the future winners in this field. Therefore, BOE, a domestic manufacturer that has invested heavily in flexible panels, has announced that its flexible panel products are expected to be officially launched in 2017 to capture market opportunities.
Zhang Yu, senior vice president of BOE, said in Chengdu that the sixth-generation AMOLED production line for the flexible panel production of the BOE Chengdu is expected to be put into production in 2017, and the related products and applications for flexible panels will soon be available. Zhang Yu pointed out that according to IHSDisplaySearch data, it is estimated that by 2020, the annual compound growth rate of AMOLED panel demand area will reach 52.3%. In addition, the flexible panel AMOLED panel has the characteristics of fast response, wide viewing angle, ultra-thin volume, ultra-light weight, foldable bending, etc. It is the world's leading display technology, so it is used in high-end mobile phones and next-generation wearable systems. There are application prospects.
In February 2016, the second phase of the BOE Chengdu 6th Generation Line Factory was signed, and the total investment of BOE in Chengdu in the two phases reached RMB 46.5 billion. The second phase of the Chengdu 6th Generation Line Factory is based on AMOLED flexible small and medium size panels. Upon completion, it will become China's first AMOLED production line for flexible panels.
In the past 10 years, BOE has invested in the construction of panel production lines in various places in China, with a total investment of nearly RMB 200 billion. In the first half of 2016, BOE continued to maintain its number one position in the market for LCD screens for smartphone tablets. After the launch of the 6th generation AMOLED production line in Chengdu in 2017, BOE will become the second company in the world to have flexible panel technology and the ability to achieve mass production after Samsung.