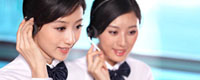 Name: Cassie.Huang
Tel: +86-755-27864416
Fax: +86-755-27864653
Mobile: 15989366182
E-mail: cassie@rxxdisplay.com
Skype: live:cassie_1191
QQ: 2850818618




Company News
>> Laser TV Terminator? OLED leader Skyworth once again focuses on LCD "quality work" 7th,March,2019
As we all know, 2018 is the most competitive year in the color TV industry. Especially in terms of new products, new technologies, new applications and prices, all major color TV manufacturers and Internet TV manufacturers have made a killer. Will this fierce competition continue in 2019? According to the present situation, this phenomenon has not weakened, but it has become more serious. Among them, on March 5th, Skyworth held a media communication conference in Beijing with the theme of "Beauty in the New World", and released the first batch of ultra-thin series Q40 products in the Year of the Pig, focusing on the "quality work" of LCD. Leading the new trend of industry development.
LCD re-existing "quality work" Skyworth Q40 how to achieve quality price ratio preferred
At present, the TV market is not lacking new products, especially in March when new products are getting together, but in the context of increasingly homogenization and complete market saturation, quality work will become the main theme. Based on this, Skyworth's ultra-thin series Q40 products are available in a total of 7 sizes from 43吋 to 82吋, meeting the needs of consumers in different environments and scenarios.
Laser TV Terminator? OLED leader Skyworth once again focuses on LCD "quality work"
Appearance, Skyworth Q40 uses the point green blue technology to create the color and texture with the light, interpreting the fusion of traditional culture and modern technology. Combining ultra-thin technology and comprehensive screen technology, Skyworth Q40 ensures the overall appearance of compact and generous, but also meets the needs of users for full-screen viewing.
In addition to the creative point of the blue color, Skyworth Q40 pays more attention to the expression of connotation. The full-time AI equipped with the product adds the "Internet of Everything" function. Combined with the full-time AI Wizard, the TV can be built into an intelligent control center, and supports the global 6000+ cross-brand electrical intelligent interconnection. The voice upgrade can also seamlessly complete the human-machine communication. . What's more worth mentioning is that the new Cool Open System 7.0 integrates all-platform video resources and uses big data to bring a full video interactive experience.
The Q40's performance in image quality is also impeccable. The Sky-Vision super-quality engine combines the five dimensions of contrast, sharpness, color, motion, and noise reduction to provide an in-depth look at the image for better viewing. Its light-controlled imaging technology brings the ultimate contrast enhancement; ultra-clear image processing can significantly improve the sharpness of the image through intelligent detail enhancement technology; RGB color calibration can adaptively adjust image parameters and accurate color expression; Super Anti-shake master can Effectively solve the problem of image jitter and tailing, make the motion picture natural and smooth; more intelligent noise reduction analysis, restore the real picture details, and create a high quality viewing experience.
Laser TV Terminator? OLED leader Skyworth once again focuses on LCD "quality work"
"This is a new product that combines traditional culture with new technology, both inside and outside." Tang Xiaoliang, chief brand officer of Shenzhen Skyworth-RGB Electronics Co., Ltd., bluntly stated at the press conference. It is worth mentioning that among the Q40 LCD products launched this time, 75吋 and 82吋 new products have attracted much attention.
Laser TV Terminator? OLED leader Skyworth once again focuses on LCD "quality work"
Budfa, Marketing Director of Shenzhen Skyworth-RGB Electronics Co., Ltd. said: "The Skyworth 75/82吋Q40 has a large screen, leading in appearance, interaction, picture quality, sound quality, etc. Its price is very competitive in the field of big screen TV. ""
Tang Xiaoliang also said that the price of large-size flat panel is based on its excellent price-performance ratio and excellent display performance. We judge that laser TV products and their industries will become past tense because of technological development and iteration; The conclusions from the objective analysis of products, technology, and business are not specific to a specific laser TV brand. We have always advocated industry-friendly and benign competition, progress together, let the industry develop better and faster, and consumers get better products, which is our aim and purpose.
Undoubtedly, the emergence of Skyworth 75/82吋 LCD TV Q40 series products will definitely bring certain impact to the laser TV market of about 80吋. At present, with the comprehensive and rapid popularization of consumption upgrades, the large-screen entertainment in the living room is a foregone conclusion. Coincidentally, Haier recently released a 75-inch TV product T82, which caused quite a stir. I believe that this Skyworth Q40 must not be underestimated, especially the 82-inch TV price is only 22,999 yuan, deserved quality. The price is preferred.