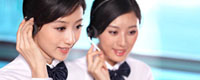 Name: Cassie.Huang
Tel: +86-755-27864416
Fax: +86-755-27864653
Mobile: 15989366182
E-mail: cassie@rxxdisplay.com
Skype: live:cassie_1191
QQ: 2850818618




Company News
>> BOE will become the supplier of Apple's third largest flexible OLED panel 12th,March,2019
According to the Korean media Etnews report, news from the industry chain confirmed that BOE has become Apple's third-largest flexible OLED panel supplier, and is expected to provide flexible OLED panels for the iPhone released in 2020. It is reported that the news has been confirmed by BOE.
BOE will become the supplier of Apple's third largest flexible OLED panel
Apple's rare personnel adjustment, multiple projects were forced to suspend
Yesterday, foreign media reported that there was a very rare personnel and business adjustment within Apple Inc., and the positions of many executives changed. According to the latest news from foreign media, Apple's personnel earthquake was so intense that the company had to suspend several projects.
Betta fish barge Beijing company people go to the house rumors
Yesterday evening, the live platform Betta responded to the Beijing company's "people go to the house" rumors through its official Weibo: "Busy for a day, just saw a media saying that the people next to me are gone?!——Betta Beijing The branch company 'people go to the house' (scare me to hurry around)."
Gree president office confirmed that each employee has 10,000 yuan sales task
Gree Electric has re-launched "all-in-one marketing". In response to the report that "every employee has an annual sales task of 10,000 yuan, sells more commission rewards, and sells less for evaluation", the president of Gree Electric Appliances confirmed that the task is available, but it said that "there is no sale, no sales, but more sales." There will be rewards."
Qualcomm announces commercial multimode 5G chip commercial at the end of 2019
On February 19th, Qualcomm announced a number of 5G products and technology solutions to warm up the upcoming MWC2019. The second generation of 5G released to the demodulator chip "Xilong X55", complemented the previous generation chip X50 does not support multimode and other short board, is a 7nm single chip, supports 5G to 2G multimode, It also supports 5G NR millimeter wave and spectrum band below 6GHz. Commercial terminals are expected to be available by the end of 2019.
Apple pushes notifications to promote its music service. It is alleged to have violated its own regulations.
According to foreign media reports, Apple pushed its music service users to send notifications to promote its music services. The technology blog 9to5Mac pointed out that Apple violated its own App Store auditing guidelines, that is, "push notification information should not be used. Advertising, promotion or direct marketing purposes."