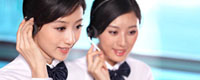 Name: Cassie.Huang
Tel: +86-755-27864416
Fax: +86-755-27864653
Mobile: 15989366182
E-mail: cassie@rxxdisplay.com
Skype: live:cassie_1191
QQ: 2850818618




Company News
>> Folding AMOLED and other emerging display technologies become the new favorite of the industry 3rd,April,2019
At the recently concluded Shanghai Display Show in 2019, the number of suppliers of flat-panel production equipment and related components increased, while the number of flat-panel manufacturers decreased significantly. But the main focus of this technology forum is still emerging display technology, especially foldable AMOLED.
With the Samsung Electronics Galaxy Fold smartphone debuting on the MWC 2019, flexible AMOLED technology has attracted widespread attention.
Although the sales of foldable AMOLED smartphones will be limited in 2019 due to pricing issues, the increase in AMOLED panel production capacity by Chinese manufacturers and the support provided by the Chinese government to local materials and equipment suppliers will reduce the price of AMOLEDs. Best of all, more mobile phone brands will launch affordable folding smartphones.
In addition to flexible AMOLEDs, aSi-based AMOLED (or Micro OLED) and Micro LED technologies are also hot topics in potential applications in the VR / AR field. Although the development speed of AR applications is lower than expected, the development of aSi-AMOLED with higher resolution, brightness, contrast and faster response time has made some breakthroughs in technology. With the emergence of AR applications such as Apple, the market potential of aSi-AMOLED technology is growing.
But for Micro LEDs, the huge yield of chips is still a big obstacle. Micro LED devices that do not have the capability to produce on a large scale (important to reducing production costs) will enter the consumer electronics market in 2021-2022, and high-end smart watches may be the most promising applications at first.