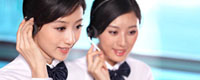 Name: Cassie.Huang
Tel: +86-755-27864416
Fax: +86-755-27864653
Mobile: 15989366182
E-mail: cassie@rxxdisplay.com
Skype: live:cassie_1191
QQ: 2850818618




Company News
>> Huaying AMOLED order transfer effect, touch sensor supplier and Xin this year camp sports can be pretty 10th,April,2019
Since Huaying (2475) was originally a supplier of touch sensors for Korean panel manufacturers AMOLED hard screen, after the financial crisis, Huafa believes that orders will be quickly transferred to Hexin (3049), and Xinxin capacity will be The second season begins with full load, will be AMOLED benefit shares, this year's camp sports can be expected.
Hexin currently has a 5.5-generation factory that produces AMOLED hard-screen touch sensors with LTPS equipment, and Huaying is a Korean panel manufacturer AMOLED touch sensor supplier. The company's revenue in the first two months of this year was 471 million yuan, a year-on-year decrease of 11.4%. However, there were annual factors in February, but revenue increased by 14.4% from January and 17.5% over last year, indicating that the mobilization momentum gradually increased. Growing up.
The legal person pointed out that in addition to the supply of high-end mobile phones in the US, AMOLEDs also have a large demand for medium and low-end mobile phones, which has led to a rapid increase in the market share of AMOLED panels in mobile phones. The mainland AMOLED panel factory will begin mass production in the second quarter of this year. Hexin also won orders from the mainland panel factory through the Korean factory, which brought a very good attention to the operation of Hexin this year.
In addition, Huaying's financial crisis has led to the rapid transfer of orders to Hexin, and there are no competitors in the mainland. The legal person estimates that Xinxin's production capacity will reach full capacity in the second quarter, and the monthly revenue will be 300 million yuan.