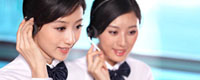 Name: Cassie.Huang
Tel: +86-755-27864416
Fax: +86-755-27864653
Mobile: 15989366182
E-mail: cassie@rxxdisplay.com
Skype: live:cassie_1191
QQ: 2850818618




Company News
>> Sharp: If the United States continues to increase tariffs, it will transfer production lines from the mainland. 29th,May,2019
On May 28th, Hon Hai's Sharp said that in the face of the US government's continued tariff increase to mainland China, the company is planning to shift the production base of notebook computers from the current mainland China factory to more production costs. It is a low-cost Southeast Asian country.
At present, Sharp's notebook subsidiary Dynabook is produced by its own factory in Hangzhou. If the United States officially imposes tariffs on US$300 billion of Chinese products, including consumer electronics, Sharp will consider the production of notebook computers to be produced at the company's factory in Taiwan or Vietnam, or by the parent company Hon Hai Group. produce.
Sharp Chairman Dai Zhengwu said that about 10% of the products produced are sold to the US market, and the monthly output is about 10,000 units. He also stressed that there are many strongholds that can be produced at low cost in Southeast Asia. Compared with competitors whose products are subject to high tariffs, it will be a good business opportunity if Sharp can transfer the production line as soon as possible.
Regarding Huawei being listed by the United States as an entity, Dai Zhengwu said that he is currently investigating whether there are any violations of the company's products. He also said that Huawei's mobile phones have been delayed in the Japanese market, which is also an opportunity for Sharp.
The report said that the United States is expected to launch a fourth tariff increase action against China after the end of June, raising the tariff to 25%, although the notebook business led by the Sharp subsidiary "Dynabook" is based in Hangzhou. However, if the fourth tariff increase action begins, Sharp will consider transferring production to Sharp Corporation in Taiwan or Vietnam, or to Hon Hai Precision Industry Group, which is controlled by it.