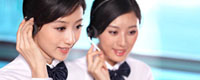 Name: Cassie.Huang
Tel: +86-755-27864416
Fax: +86-755-27864653
Mobile: 15989366182
E-mail: cassie@rxxdisplay.com
Skype: live:cassie_1191
QQ: 2850818618




Company News
>> Tianma flexible display panel will be shipped in the first half of 2020 3rd,June,2019
It is reported that China's flat-panel manufacturer Tianma Microelectronics recently said it expects to begin shipping flexible display panels to customers in the first half of 2020.
At the 2019 Taipei International Computer Show (Computex2019) held at the World Trade Center in Taipei from May 28th to June 1st, Tianma Microelectronics exhibited a 7.4-inch flexible WQHD AMOLED panel.
The 7.4-inch flexible panel has a foldable design with a bend radius of 3mm, a bend angle range of 0 to 180 degrees, an overall module thickness of less than 0.25mm, a full screen aspect ratio of 21:9, and a resolution of 3,360*1,440 pixels (493 PPI). ).
At the same time, Tianma also showed 6.3-inch and 6.4-inch blind-hole mobile phone displays at the show. According to industry sources, the blind hole display produced by the company has been used in Huawei Honor V20 and Nova 4 smartphones.
In addition, Tianma also high-profile display of its total-reflective 2.13-inch electronic shelf label (ESL) display, mainly for the smart retail sector. The ESL display features low power consumption, high reflectivity, and long life for operation over a wide temperature range.
It is reported that the company has also made progress in the automotive panel market, making it the third-largest supplier in the world in 2018, and also the top supplier in China. For this field, Tianma has demonstrated an 8.8-inch rearview electronic mirror with ultra-thin bezel, wide operating temperature range, wide viewing angle and high brightness. There is also an integrated multi-screen car cockpit display that can accommodate Three 12.3-inch panels, the dashboard, CID and co-pilot display.