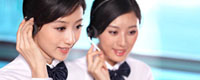 Name: Cassie.Huang
Tel: +86-755-27864416
Fax: +86-755-27864653
Mobile: 15989366182
E-mail: cassie@rxxdisplay.com
Skype: live:cassie_1191
QQ: 2850818618




Company News
>> 2Q19 Taiwan's large-size panel shipments increased by 6.8% 16th,August,2019
It is reported that due to customers' concerns about Sino-US trade conflicts, orders were submitted in advance. Therefore, in the second quarter of 2019, Taiwanese manufacturers (excluding Sharp) shipped large-size (9-inch and above) LCD panels with 58.09 million units. The increase was 6.8%.
Due to the increase in orders from manufacturers such as Hewlett-Packard and Dell, notebook panel shipments performed significantly better than other application panel shipments in the second quarter.
At the same time, as the terminal market demand is expected to remain weak in the second half of this year, compared with the first half of the year, Taiwan's large-size panels will maintain a 2.5% increase in shipments in the second half of the year.
As Samsung Display will transform its 8.5G LCD line with a capacity of 80,000-90,000 substrates into QD-OLED panel development at the end of the third quarter, it will greatly reduce the supply of large-size LCD panels, so it is expected this year. The supply and demand of large-size panels for half a year will be improved.
However, mainland Chinese manufacturers, including China Star Optoelectronics (CSOT), China Light and Power Panda, Rainbow Optoelectronics and Huike Jinyu, are expected to continue to increase the production of their more advanced factories from the beginning of this year, so they are also in the overall supply. There will be no overly optimistic situation.
For the whole year of 2019, Taiwan's large-size LCD panel shipments are expected to reach 230 million, down nearly 7.2% year-on-year.