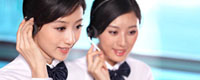 Name: Cassie.Huang
Tel: +86-755-27864416
Fax: +86-755-27864653
Mobile: 15989366182
E-mail: cassie@rxxdisplay.com
Skype: live:cassie_1191
QQ: 2850818618




Company News
>> The first equipment of Anhui Xitai Silicon-based OLED Factory moved into 26th,Aug,2019
On August 21st, the first equipment of the silicon-based OLED factory of Anhui Xitai Intelligent Technology Co., Ltd. (hereinafter referred to as "Xitai") – the vapor deposition equipment was moved in.
According to the official website of Xitai, Xitai is located in the Chenda Industrial Park of the Yangtze River Bridge Comprehensive Development Zone in Wuhu City, Anhui Province. It is committed to providing high quality silicon-based AMOLED microdisplay products and technical support to customers around the world.
The company's R&D center was established in 2016 and was successfully completed in July 2017. It is fully operational. There are more than 20 professional R&D personnel including scientific research personnel and external personnel, and more than 50% have master's degree or above. The center's research and development products are mainly focused on LCOS, silicon-based OLED microdisplays, silicon-based LED microdisplays and related instruments and equipment.
The R&D center uses cluster equipment consisting of four vacuum chambers, a transfer chamber and a glove box for packaging (water and oxygen content less than 1 ppm) for the total control chamber (1) The robot automatically transmits and controls the operation of each cavity, the vacuum chamber is a plasma cleaning chamber (2) for cleaning the substrate, and the organic thermal evaporation film evaporation chamber (3) is used for vaporizing the various functional layers of the OLED; Two magnetron sputtering chamber (4 and 5) cavities are used to make metal and compound electrodes. All vacuum chambers have a vacuum of 10-5 pa.
Silicon-based OLED is a display technology that combines semiconductor and OLED, featuring high brightness, high contrast, high PPI, high integration, low response time and low power consumption.
At present, BOE, Vision, Kopin, Sony and other major manufacturers are also actively promoting the development of silicon-based OLED technology.